Creamy Pesto Tortellini – Cheese tortellini tossed in a creamy pesto sauce with smoked turkey sauce gets dinner on the table in 20 minutes any night of the week!
I am all for quick dinners. Weeknights are crazy. And when you have teenagers that add to that, the schedule just gets even crazier. So if I can get dinner on the table in under 20 minutes, like One Pan Spicy Garlic Shrimp I am happy, and so is my family.
I don't want to spend hours in the kitchen making dinner, but I also don't want to have take out or fast food every night either. I love doing make your own take out like Chicken Lo Mein for quick dinners as well. On the table in the same amount of time it would take for delivery.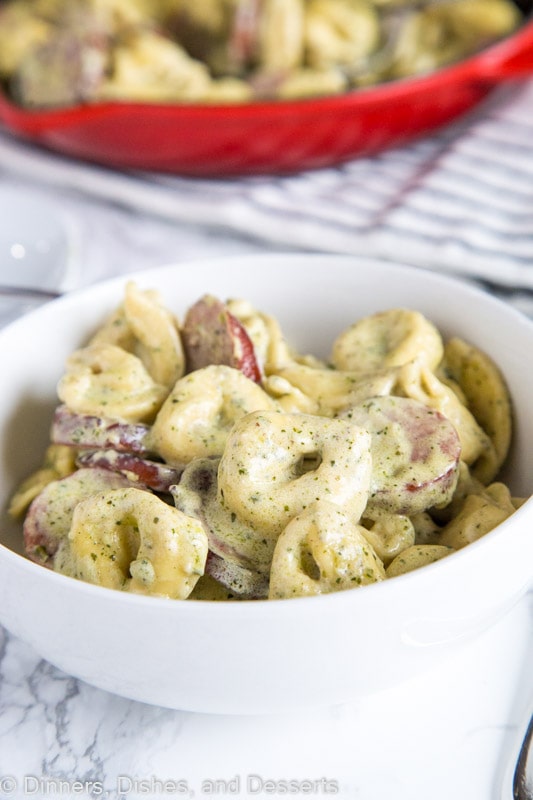 I am a sucker for pesto, and will incorporate it any time I can. Italian Turkey Cutlets are so easy and so good, and also work perfectly with chicken. This creamy pesto sauce would go with just about anything, but works really well with cheese tortellini. I added some smoked turkey sausage to make it a full meal. It is super creamy, full of all the herbs and deliciousness of pesto and a great weeknight dinner.
This is almost like tortellini alfredo that just has a little bit of pesto stirred in at the end. You don't want to heat the pesto too much, or it starts to separate and ruins the sauce. But stirred in right at the end, it is creamy and delicious! If you want to skip the sausage you could use a different flavored tortellini and it would be wonderful as well.
If you have a homemade pesto that you like it is great to use in this recipe. This Spinach Pesto gives you all the flavor you need and works great. Or you can use store bought. Whatever you have on hand is fine, definitely not something to stress over.
To make this tortellini alfredo I used a mix of heavy cream and regular milk. That is just so I could cut some of the fat and calories, but still have it creamy. If you want to go all out, feel free to use heavy cream for the entire thing. I wouldn't go less than half though, or your sauce will be runny.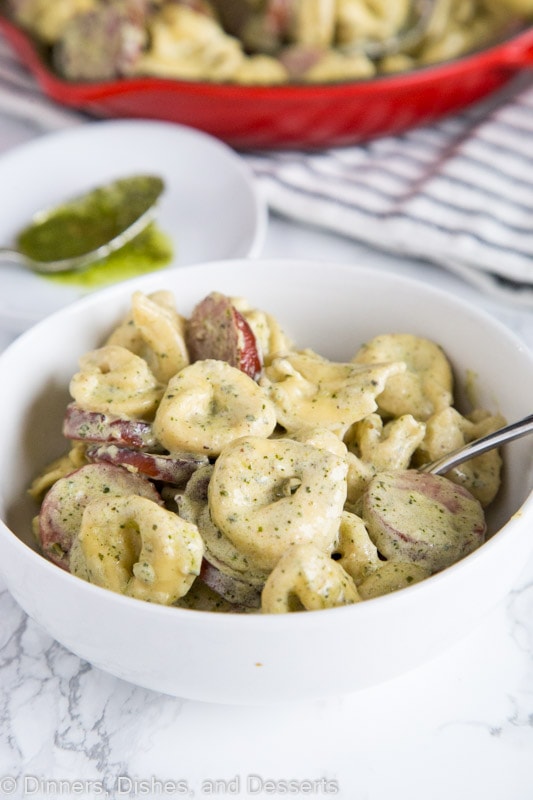 This creamy pesto sauce is going to be a staple in my house. I can see it tossed with spaghetti with grilled chicken served on top. Or even a shrimp pasta. It comes together in minutes. From start to finish you can have dinner on the table in 20 minutes, so it is great for any night of the week.
Serve with a side salad or go crazy and have Cheesy Garlic Bread. Whatever you do your family is going to love this dinner.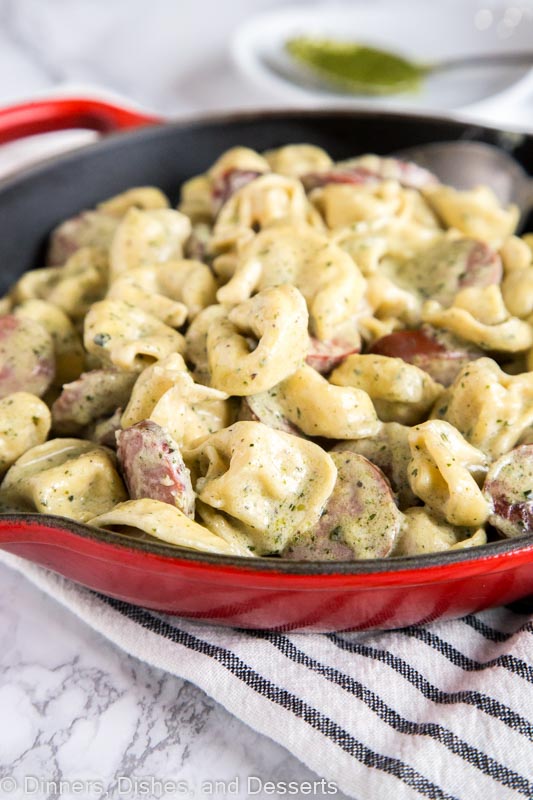 I created a fun group on Facebook, and I would love for you to join us! It's a place where you can share YOUR favorite recipes, ask questions, and see what's new at Dinners, Dishes and Desserts (so that you never miss a new recipe)! If you'd like to check it out, you can request to join HERE.
Be sure to follow me on Instagram and tag #dinnersdishes so I can see all the wonderful DINNERS, DISHES, AND DESSERTS recipes YOU make!
Connect with Dinners, Dishes, and Desserts!
Be sure to follow me on my social media, so you never miss a post!
Facebook | Twitter | Pinterest | Instagram