Have you ever tried to make something a yucky green color look appetizing, and pretty for a picture?  I am not an expert photographer by any stretch, but I am going to go ahead and say it is impossible!  Or maybe I just need to take a class, because I couldn't do it.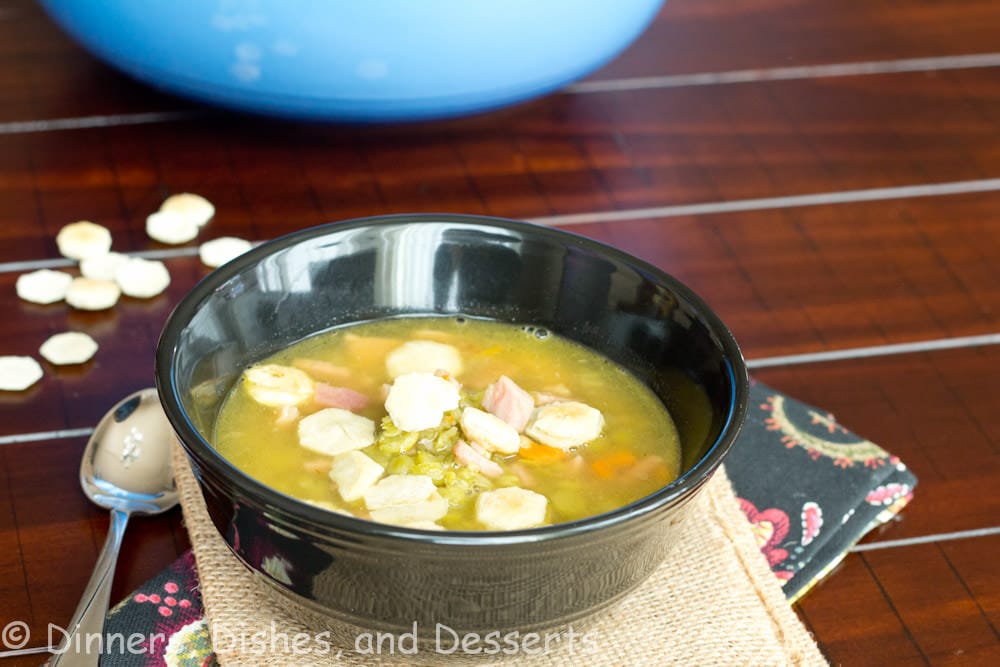 But yucky green color aside, split pea soup is one of my husbands favorite soups.  He has been asking me to make it for years, but I have never done it.  I am not a fan of it, so it always gets pushed to the back.  But this year after Christmas when we had tons of leftover ham, I decided to do him a favor, and finally make it for him!  The timing worked out wonderfully too, because my family was visiting and they got to help him eat it.  Perfect soup and sandwich lunch on a weekend.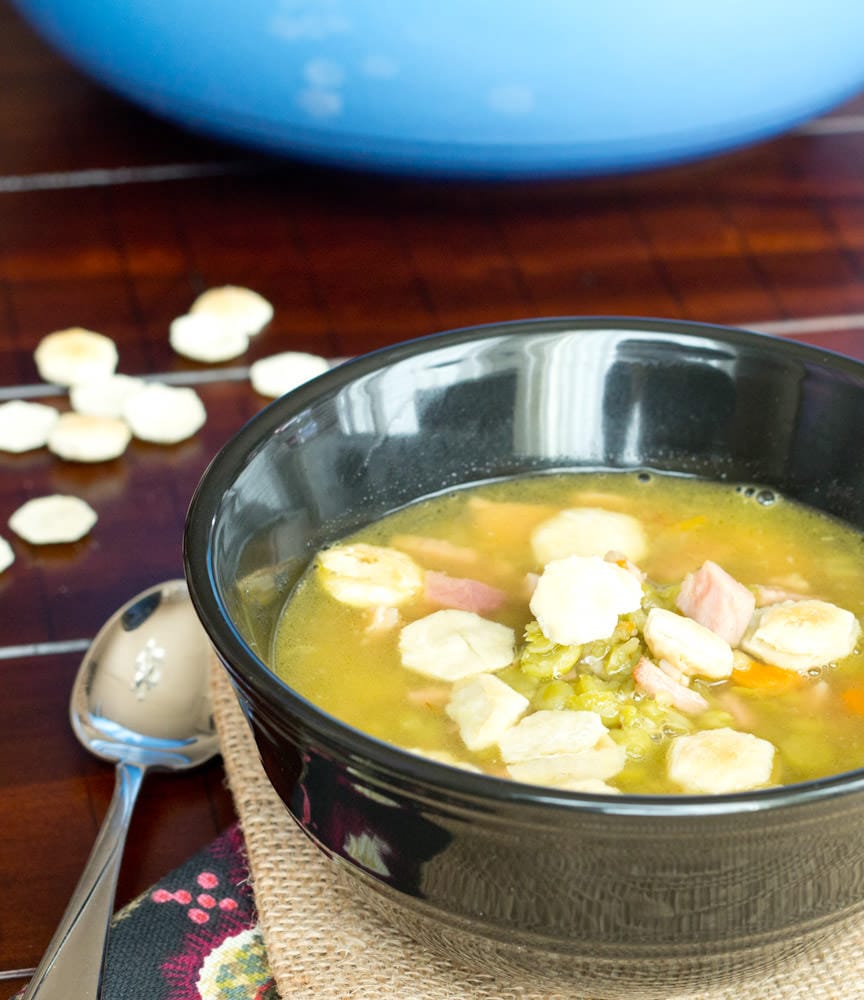 Given that I didn't taste it, I can't really vouch for it.  But everyone that did eat it cleaned their bowls, and did it quickly.  I think that says a lot.  There was sandwiches, chips, fruit, and soup; the soup could easily be cast aside if it wasn't any good.  Plus my dad has never been one to not tell you his honest opinion, no matter what is is. There was a little bit left that I froze.  My husband will take full advantage, and a few lunches he can take to work.
A classic Split Pea Soup with Ham
Ingredients
1

pound

dried split peas

3

Tbls

butter

1

cup

onion

, finely chopped

1/2

cup

celery

, finely chopped

1/2

cup

carrots

, finely chopped

2

cloves

garlic

, minced

1

pound

ham

, chopped

1

tsp

salt

3/4

tsp

black pepper

1/4

tsp

red pepper flakes

8

cups

chicken stock

1

bay leaf
Instructions
Put the dried peas in a large bowl, cover with water by 2 inches. Let soak for 8 hours or overnight. Drain the peas, set aside.

In a large stock pot melt the butter over a medium-high heat. Add the onions, and cook for about 2 minutes. Stir in the celery and carrots, cook until everything is getting soft, about 3 minutes. Add garlic, and cook for another minute. Stir in the chopped ham, and let it begin to brown. Add the drained peas, salt, pepper, and red pepper flakes, stir to get everything mixed together. Pour in chicken stock, and add the bay leaf. Let is simmer for about 1 hour, stirring occasionally, until the peas become tender. Add water as needed if the soup gets to thick. Remove the bay leaf, season with additional salt and pepper if needed, and serve.
Recipe Notes
For a thicker and creamier soup, puree 1/2 of the drained peas before adding them. Source: Adapted from
Food Network