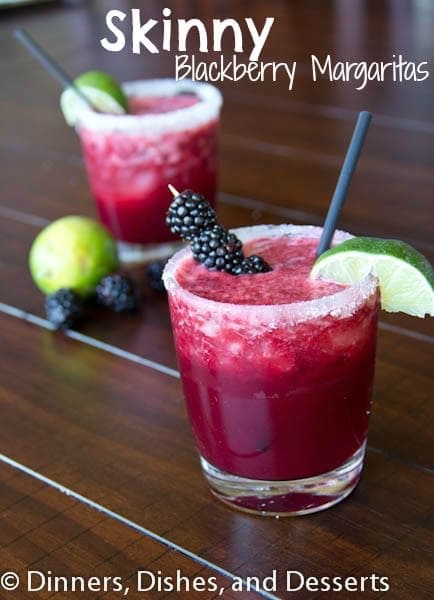 I couldn't give you lots of Mexican recipes for Cinco de Mayo and leave out the margarita, could I?!  We have had Baked Chicken Taquitos, Teedo's Famous Salsa that was perfect for chips or dipping the taquitos.  And last, but not least, there was the Cafe Rio Chicken Tostadas.  I still can't get enough of the Cafe Rio chicken, so many different things you could do with that stuff (enchiladas, quesadillas, nachos, taco pizza etc.)  See, I think you are ready for one killer party!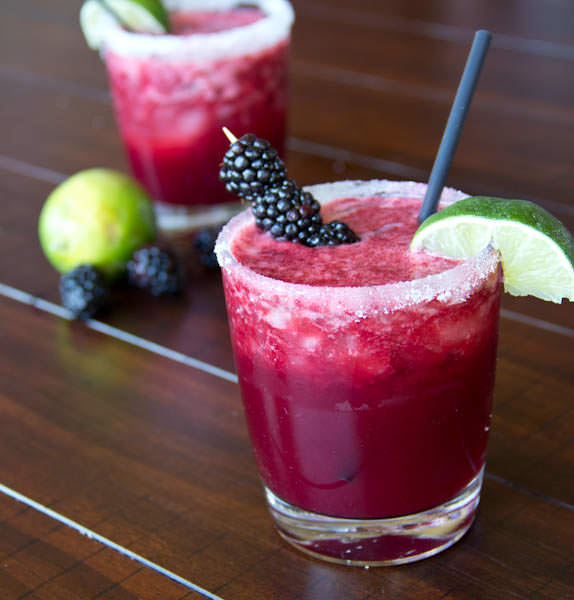 Personally, margaritas are one of my favorite things about going out for Mexican.  Especially when it is a girls night out 🙂  But they are usually loaded with so much sugar and calories, you feel guilty even having one!  To remedy that, I made a skinny version at home.  This little guy clocks in at 145 calories.  But it doesn't skimp on any of the flavor.  It is a great balance of sweet and tart from the orange juice and lime juice.  Plus you use real fresh blackberries.  None of that sugary syrup flavor that the restaurants use!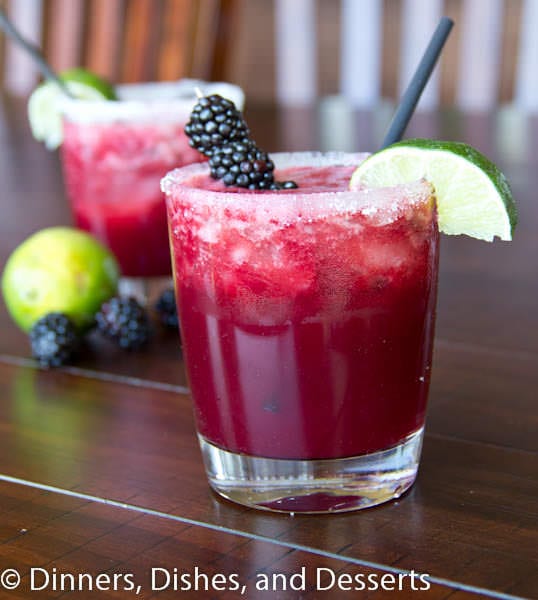 Skinny blackberry margaritas will pair well with just about anything.  It doesn't have to be saved for a Mexican night.  I am envisioning sitting on the deck, grilling burgers in the summer, sipping on one of these.  The original recipe called for Grand Marnier, but I used orange juice to cut the calories down.  If you want to swap it out for a few extra calories (about 50 per serving), go right ahead!  The recipe also calls for straining the mixture.  If you don't mind the seeds, you can definitely skip this step!

Fruity and tart make for the perfect margarita. Not to mention it is skinny!
Ingredients
1/2

cup

water

1/4

cup

sugar

6

oz

fresh black berries

1/2

cup

tequila

1/3

cup

fresh orange juice

1/3

cup

fresh lime juice
Instructions
In a small sauce pan heat water until boiling. Stir in the sugar until fully dissolved. Remove from heat, and let cool.

In a blender combine the simple syrup, tequila, black berries, lime juice and orange juice. Blend until smooth.

Pour through a fine mesh strainer. Let sit in the fridge until ready to serve.

To line the rim of the glass cut the lime into wedges. Rub with lime over the edge of the glass. Dip the rim in the sugar.

Serve over ice garnished with additional lime and blackberries, if desired.
 Want even more drink recipes?