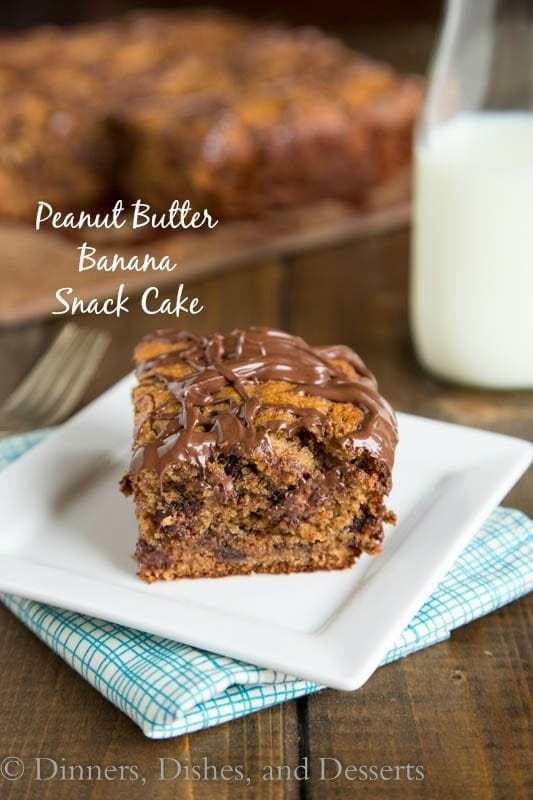 The second week of summer break is coming to a close, and it has been another busy one! My 9 year old had camp from 8-3 every day last week, plus baseball games 2 nights.  This week it was an outdoor survival camp every day, and 2 nights of baseball.  Thanks goodness next week we just have baseball.  I am ready for some more relaxing days.  I think my 9 year old might be too.  As much fun as he has had these last 2 weeks, I think he is ready to just play and be home a little bit.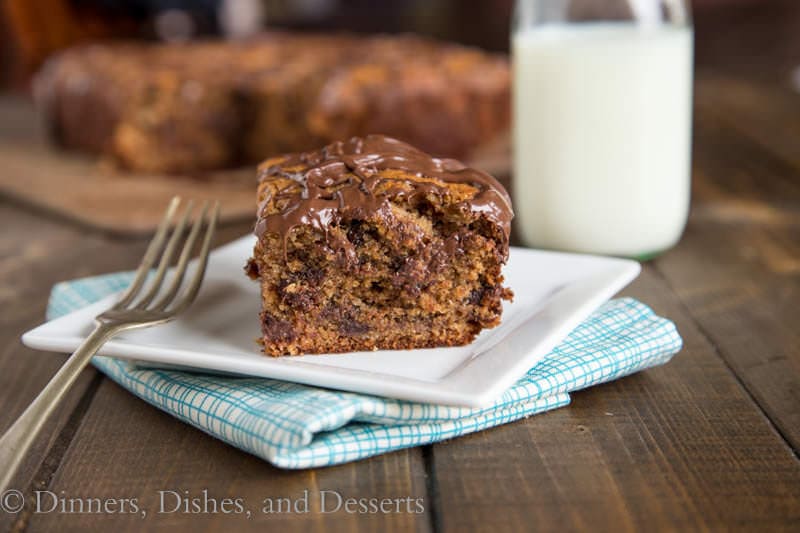 Did you know banana snack cake was a thing?  I never had it growing up, so I had no idea.  But looking over the web lately, it seems like a popular snack.  My son loves bananas in different muffins, and bread, so I thought I would see if I could come up with a little bit healthier version of this snack cake.  And then I went and drizzled chocolate over it.  I had leftover Hershey Spread from the Skillet Brownie I shared with you a couple weeks ago, so it seemed like the perfect topping.  Feel free to leave off the chocolate, or as many other recipes I have seen, you could top with chocolate frosting.
I had this banana snack cake fresh out of the oven and still slightly warm when my son came home from school one day.  He dug right in, and didn't really take a break until he finished his piece. To say he liked it would be an understatement.  Some of the leftovers were sent with my husband to work, where I hear one person finished almost all of it.  It may be summer, and baking isn't really the popular thing to do, but trust me you will want to turn on the oven for this cake.

Whole Wheat Banana Snack Cake
Peanut butter and bananas are a great combination and make a wonderful whole wheat snack cake
Ingredients
2

large ripe bananas

1

egg

1/2

cup

peanut butter

1/4

cup

coconut oil

(or vegetable oil)

2

tsp

vanilla extract

1

cup

white whole wheat flour

2/3

cup

coconut sugar

(granulated sugar will work too)

1

tsp

baking soda

2

tsp

cinnamon

1

cup

mini chocolate chips

1/4

cup

Hershey Chocolate Spread

(optional)
Instructions
Preheat oven to 375 degrees. Spray or line an 8 inch baking dish with parchment paper. Set aside.

In a mixing bowl mash the bananas. Mix in the egg, peanut butter, vanilla and oil until smooth. Add flour, sugar, and baking soda, and cinnamon mix well. Fold in the chocolate chips.

Pour into the prepared pan and bake for 35-40 minutes, until a tester comes out clean.

Remove from oven and cool for a few minutes before drizzling with chocolate spread.