One Pan Spicy Garlic Shrimp – dinner is ready in 15 minutes, with this super flavorful, a little spicy, garlic shrimp recipe.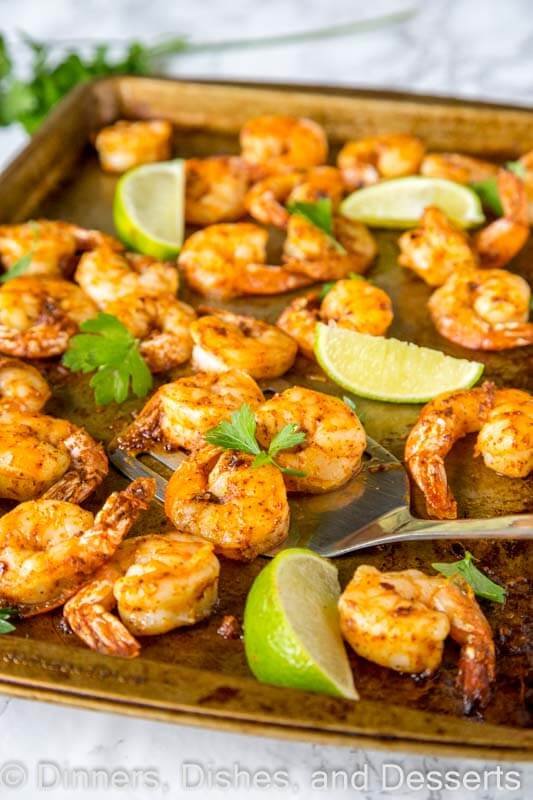 Today is our 15th wedding anniversary!  I can't believe how fast time flies. I actually met my husband when I was 15 years old (he was 17). So we have known each other for a long time, and been through a lot together.
We have lived in 3 states together, owned 3 houses, moved 5 times, traveled countless miles together, been to 3 continents, have an 11 year old son, and tons of great memories together. Pretty excited to see where the next 15 years are going to take us!
In honor of our anniversary, and I am sharing one of my husband's favorite foods; shrimp. He loves seafood, and would probably eat it almost ever day if he could. Unfortunately we live pretty much as far away from an ocean as you can get, so our choices are pretty limited. Lemon Garlic Shrimp is one of his favorite dinners.
Shrimp is pretty easy to come by though, and it is often on sale. When it is on sale, I always buy extra to have in the freezer for last minute dinners. You can run frozen shrimp under cold water to help it thaw quicker. So on nights when I have nothing planned, shrimp is a great option. Plus it has very few calories, so it is actually good for you! Which is why I love to make crispy baked shrimp. Feels like cheating, but still good for you.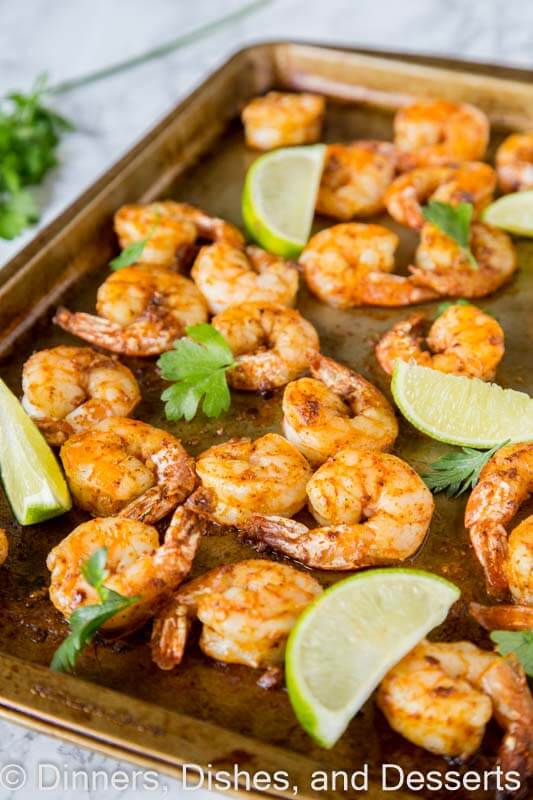 One pan spicy garlic shrimp is one of those dinners that comes together in minutes. You will probably have to wait longer for your oven to preheat, then it will take the shrimp to cook. I mix the seasonings, garlic and oil in a bowl to form kind of a paste. Then add the shrimp and mix it up until everything is well coated. Just bake, and you are done.
You can serve with roasted asparagus, or Italian cheese pull apart bread would be delicious as well! I squeezed a little lime juice over our shrimp when it came out of the oven to brighten up the flavor. The whole tray was gone in minutes!
Want more? Check out all of the other One Pan Dinner Recipes here  and here are some more you might like:
Shrimp, Chorizo and Corn Salad
Baked Chicken Parmesan
Shrimp Bacon and Kale Parmesan Pasta by Melanie Makes
Shrimp and Avocado Pasta by Aggies Kitchen
One Pan Spicy Garlic Shrimp
One Pan Spicy Garlic Shrimp - dinner is ready in 15 minutes, with this super flavorful, a little spicy, garlic shrimp recipe.
Ingredients
1

to 1 1/2 pounds large shrimp

, peeled and deveined

2

Tbls

olive oil

3

cloves

garlic

, grated or finely minced

1

tsp

ground cumin

1

tsp

salt

1/2

tsp

chili powder

1/2

tsp

paprika

1/4

tsp

black pepper

1/4

tsp

red chili flakes
Instructions
Preheat oven to 400 degrees.

In a bowl combine everything but the shrimp above. Mix until it forms a smooth paste. Add shrimp and toss to evenly coat.

Pour onto a baking sheet, spread into an even layer.

Bake for 8-10 minutes until the shrimp are opaque and fully cooked.

Remove and serve with a slice of lime if desired.
Save