Today I am joining a great group of ladies to bring you slow cooker main dish recipes.  So if you are a fan of the slow cooker, or are looking for ideas, make sure to check out the bottom of this post.  Tons of great ideas!  I love my slow cooker, I just don't use it nearly enough.  It is so convenient to throw in a few ingredients, turn it on, and then have dinner waiting for you at the end of the day.  I have am part of a few Slow Cooker boards on Pinterest, so I am hoping to take full advantage this year and try lots of new recipes.
My mother in-law has been making Italian Beef sandwiches for as long as I have known her.  I, on the other hand have never made them before.  We were installing a new floor in our bedroom a few weeks ago.  I wanted to have something in the slow cooker, so I wouldn't have to worry about dinner after working like crazy all day.  My in-laws were out of town, so I couldn't get her recipe.  I did come up with one though that I think is pretty darn good!  I like to add sautéed mushrooms to my sandwich, but given what was going on that day, I wasn't about to do any extra work.  My husband likes to put banana peppers and cheese on his.  If you aren't going to eat the leftovers right away, they freeze really well too.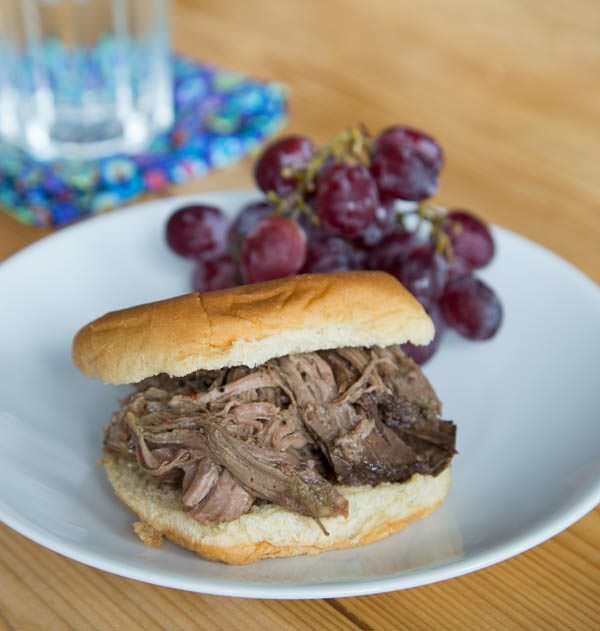 Slow Cooker Italian Beef Sandwiches
Ingredients
3

pound

Beef Chuck Roast

3

cups

beef broth

2

packages Italian Salad Dressing Mix

1

tsp

black pepper

1

tsp

dried oregano

1

tsp

dried basil

1

tsp

onion powder

1

tsp

garlic powder

1

bay leaf
Instructions
Place the chuck roast into the slow cooker.

In a bowl combine the remaining ingredients. Stir until well combined. Pour over beef roast.

Cover and set on low for 8-10 hours.

Shred and serve on hamburger buns
Recipe Notes
You can freeze the leftovers, and reheat in the crockpot, microwave, or stovetop later.

I've teamed up with some of my friends to bring you a great list of slow cooker main dish recipes today! There are 17 delicious recipes to check out today. If you love slow cooker dishes then check out #crocktoberfest2013 on facebook, twitter, and instagram to find all the other recipes that will be shared this week.
Baja Chicken Soup from Around My Family Table
Crockpot Pot Roast from Eat Drink Love
Crockpot French Dip from White Lights on Wednesday
Chicken Enchilada Soup from {I Love} My Disorganized Life
Grammy's Crock Pot Turkey Legs from Dizzy Busy & Hungry
Beef & Barley Soup from Peanut Butter & Peppers
Beef Stew from Curry & Comfort
Sweet Potato Cheddar Slow Cooker Soup from Homemaking Hacks
Crock Pot French Onion Soup from Cookie Monster Cooking
Crock Pot Green Chili Chicken from Mom Endeavors
Slow Cooker Carnitas from Foodie Tots
Italian Pork Chops with Parmesan Noodles from Pink Cake Plate
Slow Cooker 15 Bean Soup from 365 Days of Crockpot
Slow Cooker Tomato & Brown Sugar Pork Chops from Brie Brie Blooms
Slow Cooker Sesame Beef from Slender Kitchen
Pumpkin Chili from Celebrating Family