Banana Chocolate Chip Muffins – a quick and easy banana muffin with half whole wheat flour and plenty of chocolate chips!
Today is Secret Recipe Club Reveal Day!!  I made muffins, are you surprised?  By now, you all know that I am a big fan of muffins.  But this month, I have been on a kick to clean out my pantry and freezer before we leave on vacation.  The muffins did just that!  They used up some bananas in my freezer, and an open bag of chocolate chips.  The fact that I now have muffins in my freezer is beside the point.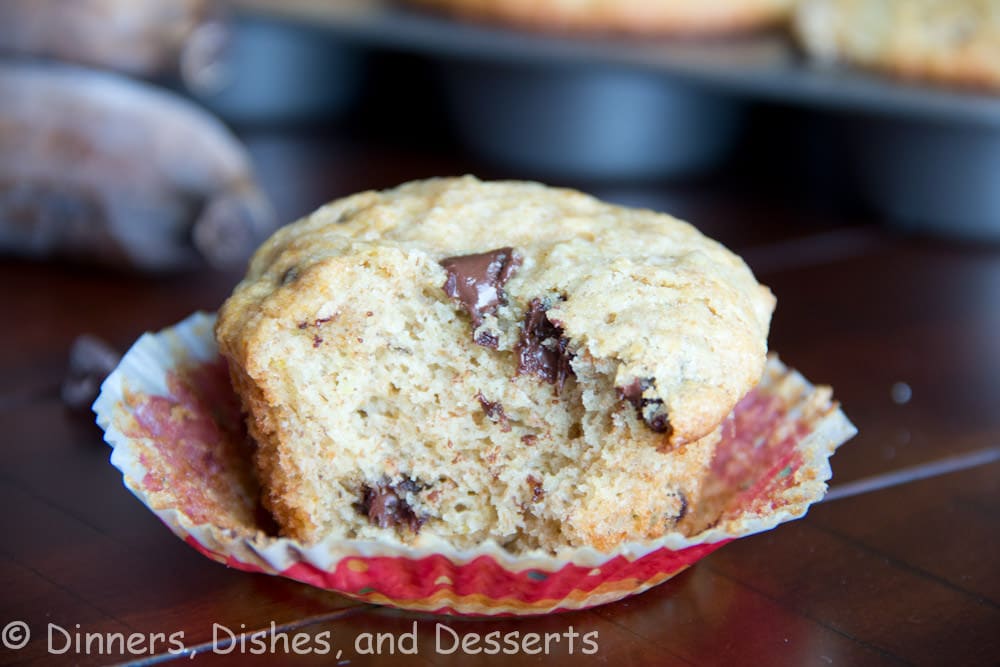 I was assigned Staying Close to Home this month.  Maria is a mom to 3 children, who also does some teaching, and tutoring on the side.  She has more than just food on her blog too; there are lots of crafts, and deals to see as well. Talk about busy!!  Maria has lots of great recipes for the whole family like Dessert Nachos, Easy Risotto, and a Make Ahead Chicken Pot Pie. But I had to pick the banana chocolate chip muffins this time.
These banana chocolate chip muffins were are huge hit with my 7 year old.  They still have oil and sugar in them, but they have whole wheat flour as well as Greek yogurt, so you can feel a little better about eating them.  You can also throw in some flax meal for added nutrition.
I still have a few bananas in the freezer, and I know my son is going to be begging me to make more of these muffins.  I probably should have thought ahead better for what I had in my freezer before my brother came to house-sit.  My son is going to have a bone to pick with his uncle if these are gone when we get back from Japan.
Want more muffins? Check out the 50 Muffins that have been shared here before, all in one place.
One Bowl Chocolate Chip Muffins by Wine and Glue
Cinnamon Chocolate Chip Muffins
Oatmeal Chocolate Chip Muffins
Morning Glory Muffins by Comfortable Domestic

Quick banana muffins with chocolate chips
Ingredients
1

cup

all-purpose flour

3/4

cup

whole wheat flour

3/4

cup

sugar

1

tsp

baking powder

1

tsp

baking soda

1/2

tsp

salt

1

egg

1/2

cup

vegetable oil

1/2

cup

plain Greek yogurt

1

tsp

vanilla extract

1

cup

mashed ripe bananas

(about 3)

3/4

cup

chocolate chips
Instructions
Preheat oven to 350 degrees. Prepare a 12 cup muffin tin with liners or non-stick spray.

In a large bowl whisk together the flour, sugar, baking powder, baking soda, and salt.

In a small bowl mix together the banana, egg, oil, yogurt and vanilla. Pour into the flour mixture, and mix until just barely combined. Fold in the chocolate chips.

Fill muffin tins and bake for 18-20 minutes, until an inserted toothpick comes out clean.

Cool for a few minutes before remove to a wire rack.

Place cooled muffins in a freezer safe bag and store in the freezer for up to 3 months.