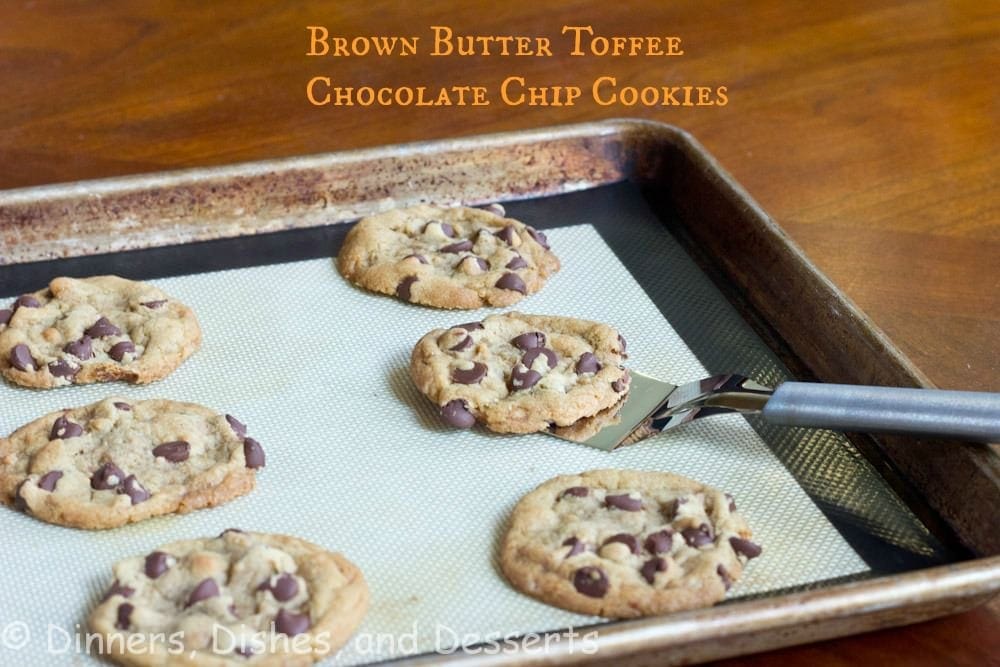 Remember when I made Brown Butter Pumpkin Pancakes, and jumped on board the Brown Butter bus? Well, now I am driving the bus. Brown Butter is amazing!! I think it just might be the best thing since sliced bread. And, I am pretty sure that my dad agrees, even if he doesn't know it.
When we were home last week my dad asked if I could make cookies for him. They bid on these cookies when I did the Colorado Wildfires Bake Sale, but were outbid in the last minute. Apparently he has been thinking about them since. I shouldn't be surprised, I know how much he likes toffee and chocolate chip cookies. Since I am such a good daughter, I went to the store to get the ingredients to make him these cookies.
These cookies were nothing short of amazing. The brown butter gives them such a great depth of flavor. So much more flavor than you get in a normal cookie. Then you have chocolate chips, AND toffee chips! They were soft and chewy, even a couple days later. I am not sure my dad knew anything about the brown butter or what made these cookies different, he just knew he couldn't stop eating them. I got a call from my dad when we were on our way back to Colorado, asking if I had posted the cookies yet. He was raving to people about how these were the best cookies, and they needed to know where to find the recipe. So here it is.
Yield: 36
Brown Butter Toffee Chocolate Chip Cookies
Brown Butter makes for a rich chocolate chip cookie with extra toffee bits
Ingredients
1 cup butter
1 cup brown sugar
1/3 cup sugar
1 egg
1 egg yolk
2 Tbls milk
2 tsp vanilla
2 1/4 cup flour
1 tsp baking soda
1 tsp salt
1 package semi-sweet chocolate chips
1 package Heath Toffee Bits, (or 4 Heath Bars, chopped)
Instructions
In a skillet over medium heat melt the butter. Once the butter is melted, it will begin to foam. The foam will subside, and brown specks will form on the bottom of the pan. Once the butter starts to smell nutty, remove from heat and allow it to cool completely. (Be careful, the butter can go from browned to burnt very quickly.)
Preheat oven to 350 degrees. Once the butter has cooled completely add it to a bowl of an electric mixer. Cream the sugar, brown sugar, and butter together. Mix in the egg, egg yolk, milk and vanilla until well blended. Add flour, baking soda, and salt. Mix until well combined. Using a spatula fold in chocolate chips, and toffee chips.
Scoop small balls of dough onto a cookie sheet. Bake for 10 minutes, or until just golden along the edges. Be careful not to over bake. Remove from oven, and allow to cool for 2 minutes before removing to a wire rack.
Store in an air tight container for about a week.
Nutrition Information
Yield
36
Serving Size
1
Amount Per Serving
Calories

125
Total Fat

7g
Saturated Fat

4g
Trans Fat

0g
Unsaturated Fat

2g
Cholesterol

26mg
Sodium

155mg
Carbohydrates

15g
Fiber

0g
Sugar

8g
Protein

2g