Dorito Taco Casserole – Turn taco night into a quick and easy casserole with layers of your favorite chips. It is time to redefine the casserole, and make it something people want to eat!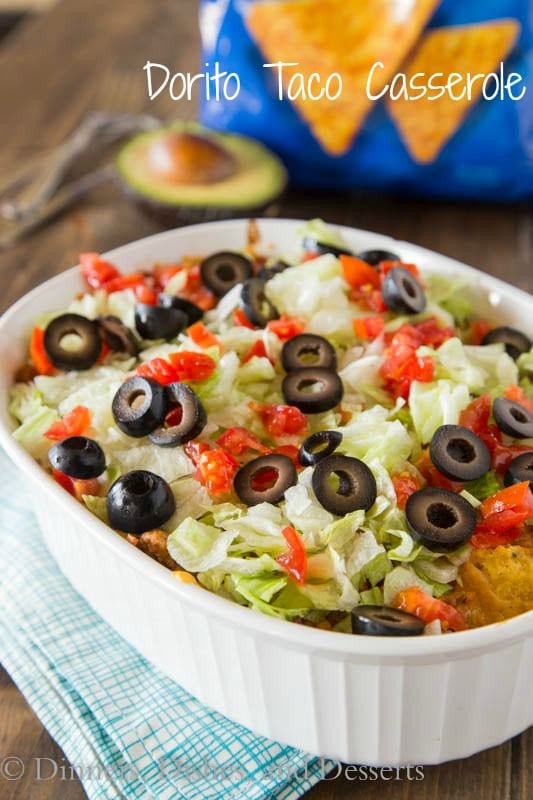 Happy Halloween!  Are your kids all ready for trick or treating tonight?  My son has his holiday party this afternoon at school, and he is super excited for it.  They have a parade around the school first.  Lots of parents come, and all of the kids in the school parade around the halls of the school and through the gym.
It is fun to go see what all of the kids have come up with for costumes.  There are always a few over the top, super creative kids.  My son is Poseidon this year.  He is not wearing his full costume to school, because I am not sure it will hold up to a party and then trick or treating.  But it should be cute no matter what.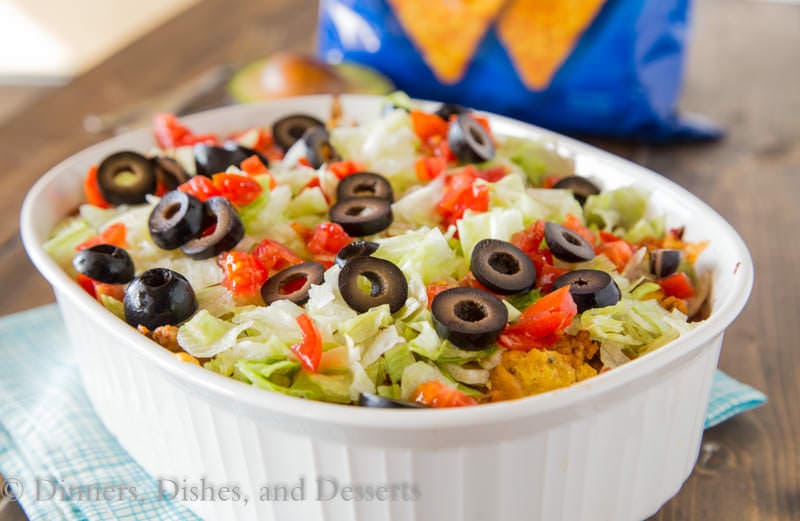 What do you usually do for dinner on Halloween?  We don't have a tradition at our house, but I like to do something quick and easy like skillet beef stroganoff.  When we lived in Iowa we often went to a friends house for crock pot chili before taking the kids trick or treating.
Since we have moved, I tend to switch up what we make.  Last year I made hot dogs wrapped in crescent rolls to look like mummies.  My son thought they were super fun.  Guess I better get my act together, and figure out what I am going to do tonight!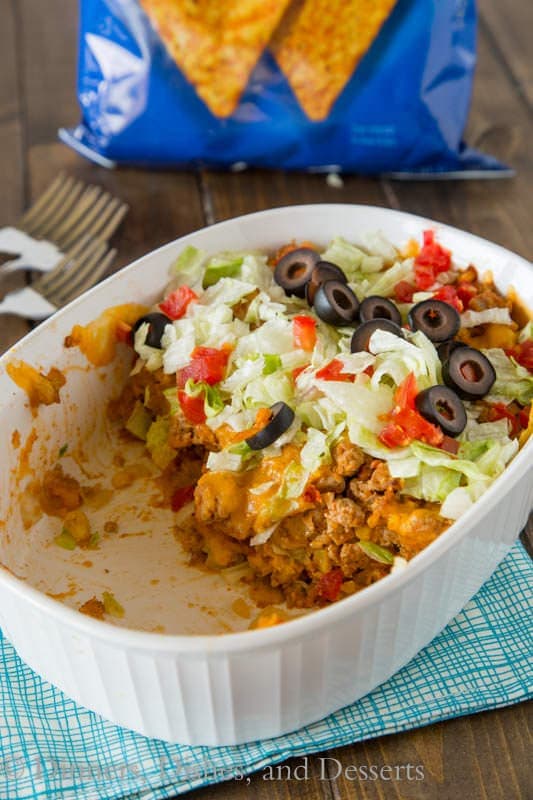 This Dorito taco casserole makes for a great weeknight meal.  It comes together with just a few minutes worth of work, and it is sure to please the whole family.  Who doesn't like tacos and Doritos?
You can top with your favorite taco toppings for a dinner the whole family will enjoy.  The leftovers are perfect the next day for lunch as well!  I made this Dorito taco casserole for my cooking club last month.  All of the ladies and my family all loved it.  I used Cool Ranch Doritos, because those are my favorite, but you can use whatever you like the best.
I am sharing this recipe over at Food Fanatic as one of their Easy Dinner contributors.  Check out all of the other recipes I have shared over there by clicking here.
Here are a few of my favorite kitchen items I used to make this recipe.
Casserole Dish – I got these dishes when I got married 16 years ago. To this day I still use them all the time. They great for casseroles, side dishes, storing leftovers and just about anything else.
Pots and Pans – A good set of pots and pans is a must! You want the food to cook evenly, and the pans to last for years and years! I have had these Calphalon Comtempory pans for many years, and I will love them.
I created a fun group on Facebook, and I would love for you to join us! It's a place where you can share YOUR favorite recipes, ask questions, and see what's new at Dinners, and Desserts (so that you never miss a new recipe)! If you'd like to check it out, you can request to join HERE.
Be sure to follow me on Instagram and tag #dinnersdishes so I can see all the wonderful DINNERS, DISHES, AND DESSERTS recipes YOU make!
Connect with Dinners, Dishes, and Desserts! 
Be sure to follow me on my social media, so you never miss a post!