I hope you enjoyed My Husband's Favorites of 2013 last week.  Today I am sharing with you my favorites.  I am sure you can see a major difference between the two…. Mine involves chocolate!  I have a bit of an obsession with chocolate, which can pose a problem considering my husband doesn't like it.  It is a good thing I have friends 🙂  Quick note – are you on Instagram?  I am stepping into the new millennium, and have joined.  Head over and follow me!  http://instagram.com/dinnersdishes
13.  Buttermilk Chocolate Chip Muffins – Just look at all those melty chocolate chips, and tell me you don't want one.  Plus it is made with Greek yogurt, 1/2 whole wheat flour and very little oil!
11.  Chicken Gnocchi Soup – I love going to Olive Garden for their soup, salad & breadsticks lunch.  The gnocchi soup is my favorite.  I made one at home that is lightened up, so you don't feel guilty about eating it.
11.  Berry Almond Salad – This salad is one of my favorites when fresh berries are in season.  So much great flavor and so good for you!
10.  Philly Cheesesteaks -I absolutely love cheesesteak sandwiches.  I have never had a real one from Philly, but I am a big fan of these homemade versions.
9.  Perfect Chocolate Chip Cookies –  These cookies have a secret ingredient to make them so thick and chewy.  They have become my go-to recipe, after making the same one since I was a little girl.
8.  Roasted Corn & Avocado Salsa – This was my first experience with roasted corn….so good!  I can't wait to find more uses for it.
7.  Puppy Chow Bars – My favorite part of Puppy Chow (Muddy Buddies) is the chunks that stick together.  These bars are a whole pan of just those parts, fudgy, chocolate-y, and lots of peanut butter.
6.  Spiked Blackberry-Vanilla Lemonade – Real vanilla beans are used in this drink.  Such a refreshing drink, and such a pretty color
5.  Chocolate Pumpkin Bread – I loved this bread so much I made it for the teachers at school as their Christmas gifts.  So tender, chocolate-y, and full of spice.
4.  Rosemary Focaccia – This is our go-to recipe when we want to make bread.  I almost always have a loaf in the freezer waiting for next time.
3.  Biscoff Rice Krispie Treats – Biscoff and chocolate together is one of the best combinations.  I have been trying to find an excuse to make these again, and I think I found one next week 🙂
2.  Chocolate Peanut Butter Truffle Cookies – I have a serious obsession with all things chocolate and peanut butter; I just can't turn away.  These cookies are so fudgy, and then have a creamy peanut butter center.
1.  Peanut Butter Brownie Pizza – I told you I have a problem.  This pizza was so decadent.  It was pure chocolate/peanut butter heaven.  I liked it so much I did a version with cookies too.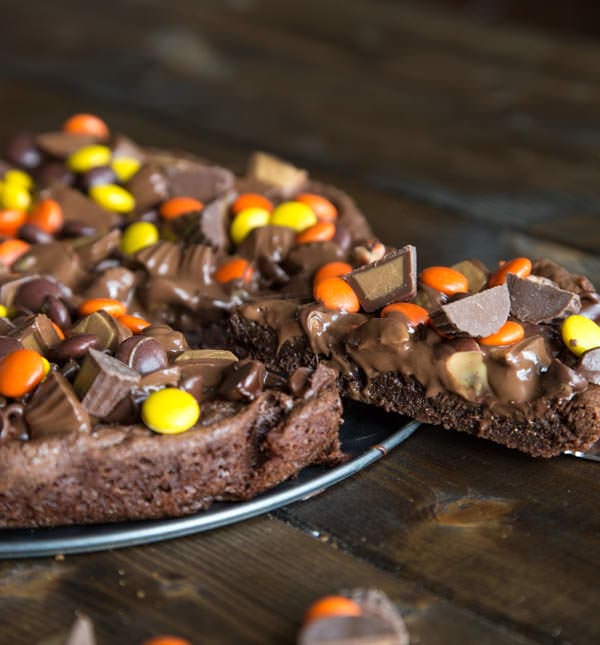 So there are my favorite recipes from 2013.  Stay tuned tomorrow for Reader's Favorites!