Oreo Brownies – fudge homemade brownies stuffed with Oreo cookies inside. Fudgy, gooey, chocolate-y perfection!
I think people either love or hate Oreos. People go on about how bad they are for you and how they don't like them. But I don't know how you couldn't like them. They are so good, I can't have an open bag of them in my house or I will eat them all! Oreo No Bake Cheesecake is one of my favorite ways to use them up!
Making just about anything with an Oreo crust is automatically a good thing in my eyes. Oreo Cream Squares….oh my, so good! Really, when Oreo's are involved you can't go wrong. Then you throw in my beloved brownies and I am in heaven.
My favorite brownie recipe is the base for these oreo brownies. You can go ahead an use a box mix if you want, but nothing beats brownies from scratch in my opinion. Plus there are only a few ingredients, so they are so easy to make!
I am usually a double stuffed Oreo type of girl. I mean, if you are going to go there, why not go all the way. But for these Oreo cookie brownies, I went with the original version. I have tried it both ways, and the original just works better here. Don't get me wrong, if you have the double stuffed, then by all means use them. But if you have to pick up a bag to make these, go for the original.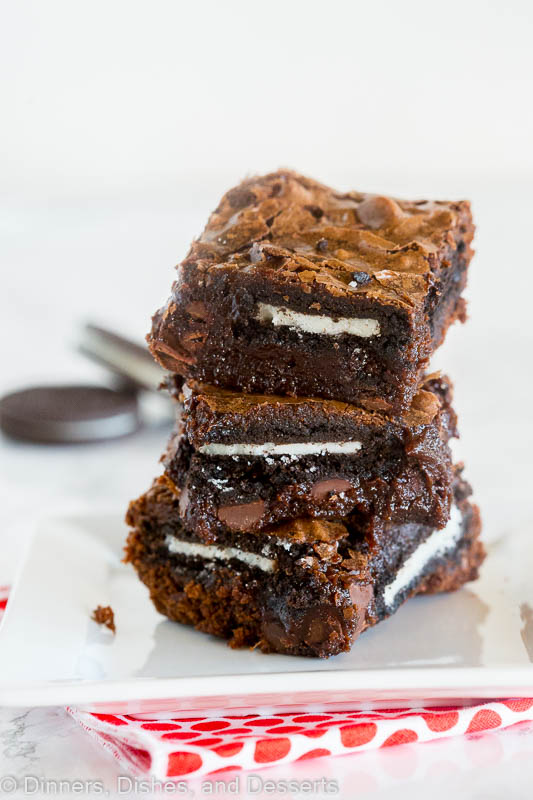 These Oreo brownies would be great to make with all the different flavors and colors or Oreo's. You could use the pastel ones for Easter. The mint ones would be a really tasty combination as well. They are always coming out with the flavors, so the ides never stop!
So the next time you have a brownie craving skip the box mix! Make these homemade brownies, stuff in some Oreo's and all of your chocolate cravings will be cured!
Oreo Brownies - fudge homemade brownies stuffed with Oreo cookies inside. Fudgy, gooey, chocolate-y perfection!
Ingredients
Brownies
2 oz unsweetened chocolate, melted
1/3 cup vegetable oil
2 eggs
1 cup sugar
3/4 cup flour
1/2 tsp salt
1/2 cup chocolate chips
Instructions
Preheat oven to 350 degrees. Line an 8x8 baking dish with foil.
In a bowl combine melted chocolate with canola oil. Add sugar, and eggs. Mix until well combined. Stir in flour and salt. Fold in chocolate chips
Spread 1/2 the batter into the bottom of the pan. Place Oreo's in 3 rows of 3 over the batter. Pour in the rest to cover the cookies. If using additional Oreo's sprinkle them across the top.
Bake for about 25 -30 minutes, or until done. Cool before serving.
Nutrition Information
Yield
12
Serving Size
12 Servings
Amount Per Serving
Calories

263
Total Fat

13g
Saturated Fat

4g
Trans Fat

0g
Unsaturated Fat

7g
Cholesterol

31mg
Sodium

145mg
Carbohydrates

35g
Fiber

2g
Sugar

24g
Protein

3g