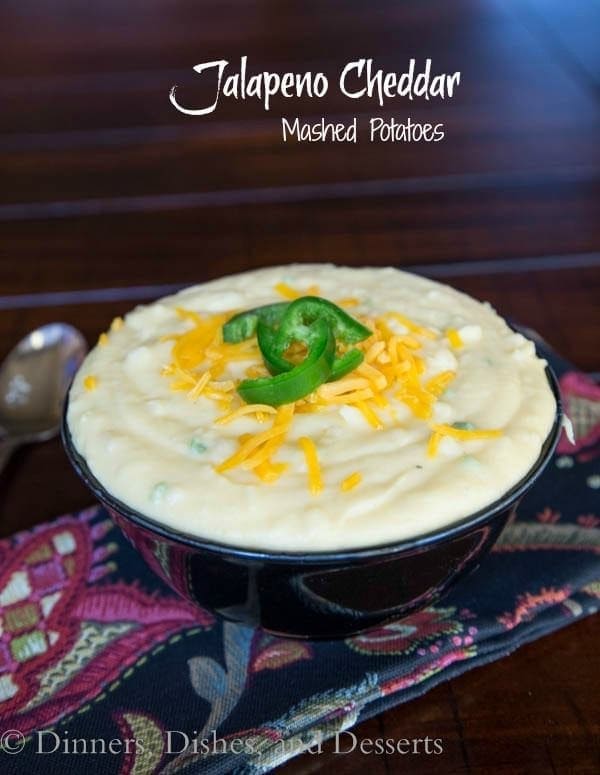 Yesterday I posted the kicked up acorn squash recipe that received the most votes on Facebook. Today I am sharing spicy mashed potatoes, which came in a very close second. Mashed potatoes are pretty much a staple at most Thanksgiving tables, and also regular weeknight meals. A spicy version with lots of cheese is sure to please any day of the week.
My husband loves mashed potatoes. I am not really a fan, so these were for him. I said I needed to come up with a few holiday side dish recipes to share here on the blog. He suggested jalapeno cheddar mashed potatoes. It didn't seem very holiday-ish to me, but he disagreed. Seeing as how I skip the mashed potatoes, I had to believe him on this one. So these spicy potatoes were created.
This might be the first time I have made mashed potatoes that my husband has said they were really good. Often times I substitute a lower fat milk for the heavy cream, or cut out a ton of butter. This time I didn't, and I piled on the cheese. He was in heaven. You can easily adjust the heat level by how much jalapeno you add. I added an entire large pepper, and he said it was pretty spicy. So unless you likes thing hot, I would start with 1/2 and add more after you have tasted it. Spicy mashed potatoes might not be a traditional Thanksgiving side, but they belong on your table anyway!
Yield: 8
Jalapeno Cheddar Mashed Potatoes
Traditional mashed potatoes with a cheddar and jalapeno twist.
Ingredients
2 pounds Yukon Gold potatoes, , peeled and chopped
2 cups cheddar cheese, , shredded
1 cup heavy cream
1/2 cup butter
2 tsp salt
1 tsp black pepper
1 tsp garlic powder
1/2 - 1 jalapeno, , finely choped
Instructions
In a large pot cover diced potatoes with cold water. Heat to a boil. Reduce heat and simmer until potatoes are fork tender, about 20 minutes.
Using a potato masher, mash until desired consistency.
Add butter, cream, and cheddar cheese. Mix until well combined. Season with salt, pepper, pepper, and jalapeno. Taste and adjust the heat level. Season with additional salt and pepper if necessary.
Serve immediately
Nutrition Information
Yield
8
Serving Size
1
Amount Per Serving
Calories

425
Total Fat

32g
Saturated Fat

20g
Trans Fat

1g
Unsaturated Fat

10g
Cholesterol

92mg
Sodium

877mg
Carbohydrates

26g
Fiber

3g
Sugar

2g
Protein

10g