Tangerine Glazed Ham – a delicious baked ham with a sweet tangerine glaze.  Perfect for any holiday table.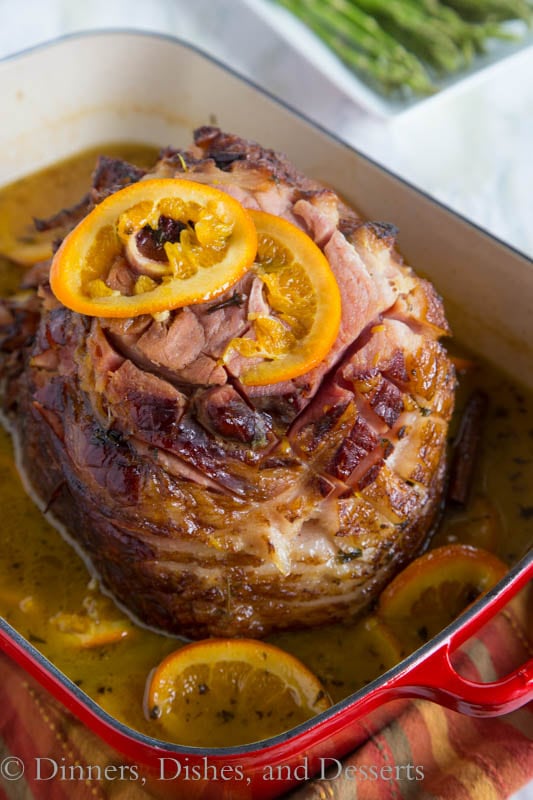 Thanksgiving is over and it is time to start thinking about Christmas.  Do you know what you are serving?  Have you started your baking yet?  My in-laws will be here this year for Christmas, and I have no idea what we will make.  We usually do seafood for Christmas Eve, but change up Christmas day almost every year.  Last year it was just the 3 of us, and I can't even remember what we had.  I know we did appetizers for lunch and cinnamon rolls for breakfast.  My father in-law is a huge fan of ham, so we might have to make this Tangerine Glazed Ham when they are here this year.
I never grew up with ham on Christmas.  When I was a kid Christmas dinner was pretty much an exact replica of Thanksgiving.  Once I got in college I think was about when we started mixing it up.  We have done baby back ribs, standing rib roast, steak, and many other meals since then.
My husband would eat ham at almost ever holiday, so that is what he puts in his request for most times.  I almost never use a glaze when I bake my hams though.  Well after making this Tangerine Glazed Ham, that is going to change.  The glaze gives the ham so much great flavor, I completely fell in love. And it gives so much flavor if you use the leftover ham to make Ham & Bean Soup.
I write a recipe for a local magazine each month.  Most of the times I get recipes from people in the community, make their recipe, take pictures, and then feature it in the magazine.  This was one of those recipes.  My friend Kristin gave me this, and said it is what she makes every single year, and her boys absolutely love it.  I was giving her a hard time, saying she was going to make me work for the article that month.
I was so wrong, the glaze was so easy!  Just measure a few ingredients in a sauce pan, bring to a simmer, and then pour over the ham.  So much less work than I ever thought it would be.  So impress your holiday guests this year with this gorgeous and delicious Tangerine Glazed Ham! And use those leftovers to make Scalloped Potatoes and Ham!

Tangerine Glazed Ham
Tangerine Glazed Ham - a delicious baked ham with a sweet tangerine glaze. Perfect for any holiday table.
Ingredients
8-10

lb

bone-in ham

Salt and pepper

1

bunch fresh sage leaves

1/4

cup

olive oil

1

cup

butter

, softened and cut into chunks

2

whole tangerines

, sliced thin and seeds removed (or oranges)

2

cups

tangerine juice

(orange or grapefruit juice work well)

2

cups

brown sugar

1

cup

water

2

cinnamon sticks

1/4

tsp

whole cloves

2

lbs

carrots
Instructions
Preheat oven to 300. Place the ham in a large roasting pan, fat side up. With a sharp knife, score the ham with cuts across the skin, about 2 inches apart and 1/2 inch deep. Cut diagonally down the slashes to form a diamond pattern.

Season the meat with salt and pepper.

Chop the sage leaves and put them in a bowl with the olive oil to make a paste. Rub sage-oil on the ham and be sure to get the flavor into the slits. Bake the ham for 2 hours.

To make the Tangerine Glaze: Place a saucepan over medium heat. Add the chunks of butter, tangerines, tangerine juice, brown sugar, water, and spices. Slowly cook the liquid down to a syrupy glaze. This takes about 30-40 minutes.

After the ham has been cooking 2 hours, pour the tangerine glaze all over it, including the pieces of fruit and spices. Cook for another 1 1/2 hours, basting with the juices every 30 minutes.

Scatter the carrots around the ham and cook for an additional 30 minutes, until the carrots are tender.
Recipe Notes
Size of ham will determine cooking time. If you use a spiral cut ham, it will cook in close to 2 hours total.
Recipe from Kristin
I am always pinning recipes over at Pinterest.  Come follow along for lots of inspiration!