Pumpkin Chocolate Chip Pancakes – super light and fluffy pumpkin pancakes full with lots of chocolate chips and topped with maple syrup.  
Saturday mornings in late summer and fall often mean we are up before 6am and on the road by 6:30.  We love the mountains, and try to go up there as often as possible to hike.  But to get a parking spot near the trail head in Rocky Mountain National Park, or get off the mountain before the lightening comes in, means we have to leave early.  It is worth it with the stunning views (follow in Instagram for pictures).  Thankfully that means that Sunday mornings are lazy.  Pancakes or waffles breakfast, lounging in pajamas, and sleeping in. And now that it is fall, pumpkin pancakes are a must.  And pumpkin chocolate chip pancakes are even better!
I am a fan of super light and fluffy pancakes.  They can be hard to do at home.  But I have a couple tips that make success within reach.  1.  Buttermilk.  It just works.  Regular milk and milk substitutes will give you pancakes, but not light and fluffy.  2.  Do not press down on the pancakes after you flip them.  They tend to puff up slightly, just let them.  Air pockets are forming and they are what make for deliciousness.  3.  Do not over mix.  I like to add in my buttermilk last, so I can stir until it is just combined.  The less mixing the fluffier the pancakes.  And let me tell you these pumpkin pancakes are some of the fluffiest I have made.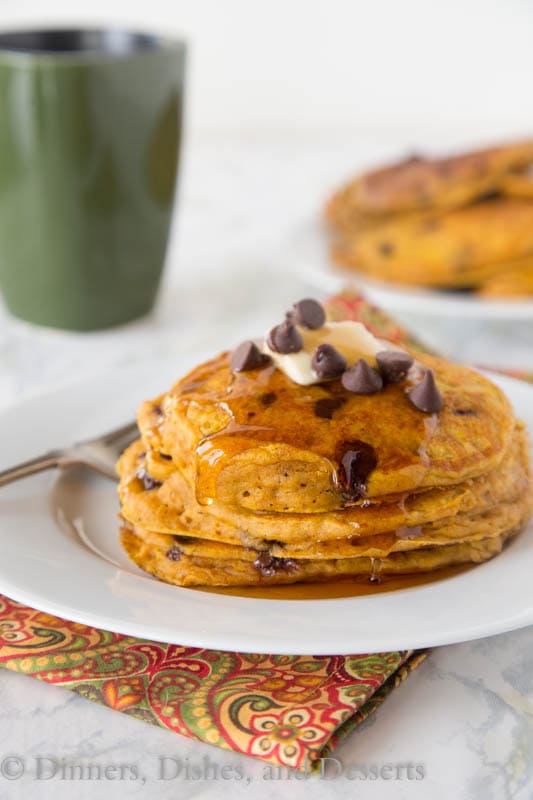 Chocolate chip pancakes are my son's favorite.  If they are on the menu at a restaurant, you can bet that is what he is going to pick. And pumpkin and chocolate go so well together, that I just had to add them to these pumpkin pancakes.  Melty chocolate just makes for a breakfast win no matter what.  But if you aren't a huge fan of chocolate chip pancakes (who are you?!)  than just leave them out, and you will have fluffy pumpkin pancakes. burma  And there is nothing wrong with that.  So if you are looking for a lazy weekend breakfast, breakfast for Thanksgiving, or just another way to celebrate pumpkin these pumpkin chocolate chip pancakes are for you!  Plus the leftovers (if there are any) freeze well for quick weekday breakfasts.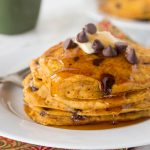 Pumpkin Chocolate Chip Pancakes
Pumpkin Chocolate Chip Pancakes - super light and fluffy pumpkin pancakes full with lots of chocolate chips and topped with maple syrup.
Ingredients
2

cups

flour

2

tsp

baking powder

1

tsp

baking soda

2

tsp

cinnamon

1/2

tsp

all spice

1

cup

semi-sweet chocolate chips

1/4

cup

brown sugar

1

egg

1

tsp

vanilla

1

cup

pumpkin

3

Tbls

canola oil

1 1/2

cup

buttermilk
Instructions
Heat a grilled to 350 degrees, or a large skillet to medium high heat.

In a bowl mix together flour, baking powder, baking soda, cinnamon, all spice and chocolate chips.

In a separate bowl mix together brown sugar, egg, vanilla, pumpkin, and canola oil. Once well mixed, add flour mixture. Slowly mix in buttermilk until just combined.

Pour onto heated griddle or skillet. Cook for about 3-4 minutes, until tiny bubbles are forming on the surface. Flip and cook for an additional 2-3 minutes on the other side.

Serve immediately topped with maple syrup.