Welcome to Christmas Week, a multi-blogger event co-hosted by Kim of Cravings of a Lunatic and Jen from Juanita's Cocina! Each day we will be celebrating the holidays with a different set of Christmas-themed treats, as well as a fabulous Christmas giveaway. We hope you enjoy this fabulous event. Tune in each day starting today, Monday, December 9th and ending Saturday, December 14th.
Today is the start of Christmas Week 2.0. You may remember last year we did a Christmas week, with a different theme each day. Pie, Cake, Cookies, Gingerbread, and Peppermint. This year things have grown a little. Each day this week (Monday-Saturday) the Christmas Week 2.0 group will be posting new holiday recipes for you. Every day there will also be a giveaway involved. Seriously, there is some great stuff this week: Magimix, Le Creuset, Freund Container Supply, Cake Boss and more! So be sure to check back each day.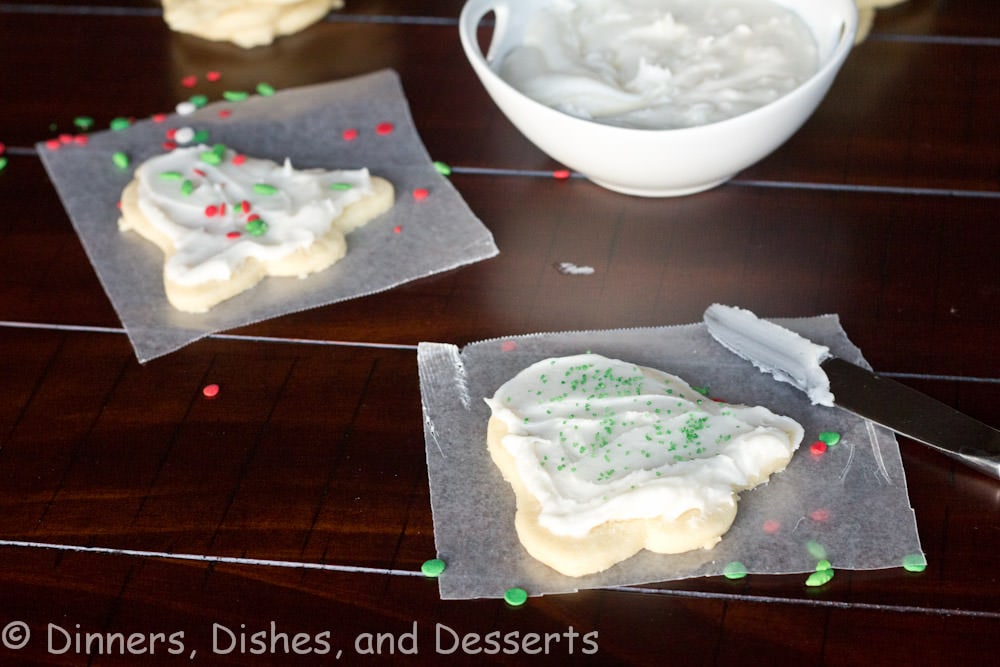 Frosted sugar cookies are a staple in my house at Christmas time. My husband is very picky about his sugar cookies, and this is the only recipe I am "allowed" to make. We prefer to have our cookies thick and soft. If they start to get brown on the edges, they are over down in my opinion. I used to do a cookie exchange with co-workers before I had my son. It was always up in the air which sugar cookie recipe we would use, because everyone had their favorites. Some said cream of tarter recipes were the best, others said sour cream based was the best. I stepped up and said I would make mine, it was a compromise between the two. Everyone was shocked, and mine became the go to recipe each year.
The fun thing about sugar cookies is you can make them any shape you like, for any season. I actually did football helmets, and footballs a few weeks ago. There was a big game between the WI Badgers and BYU. There are lots of BYU fans where my husband works. So when the Badgers won, he requested I make themed Badger cookies to take to work. All the guys at work loved them, and were able to forgive with WI theme 🙂 I actually posted this recipe when I first started blogging, like one of the first few posts. I am not sure more than 10 people saw it though, so here it is again!

Frosted Sugar Cookies (12 Days of Christmas)
---
Yields 3
Classic cut out sugar cookies
15 minPrep Time
10 minCook Time
25 minTotal Time
Ingredients
Visit all the other Christmas Week Peeps for more Holiday Baking Goodness:
Today's #ChristmasWeek giveaway comes courtesy of Magimix by Robot-Coupe. Magimix has an impressive history, and is the inventor of the first food processor for home cooks. Their machines are still handmade in Burgundy, France, and they are the only company to manufacture their own motors which feature a 30 year guarantee!
Chefs Catalog is offering a new, exclusive Magimix by Robot-Coupe 3200XL 12-Cup Food Processor package. The food processor features nested bowls, stainless steel blades, and a large feed tube. The included blender attachment transforms the processor into a fully-functional blender, and the citrus press is ideal for extracting juice from all types of fresh fruits. To enter, read the details and use the Rafflecopter below!
***This giveaway is for one Magimix by Robot-Coupe 3200XL 12-Cup Food Processor (in white)! This giveaway is open to Continental US residents only . When the contest concludes, the winner will be chosen by random draw. The winner will be notified through e-mail and they will have 3 days to respond or another winner will be chosen.***
***Disclaimer: This giveaway is being provided by Magimix by Robot-Coupe. #ChristmasWeek bloggers have not received product or been compensated as a part of this giveaway.***