Broccoli Salad Recipe – roasted broccoli salad with bacon, apples, cranberries, almonds, sunflower seeds and a creamy poppy seed dressing!
I am going to be honest with you and say I have never really liked broccoli salad. But all that changed about a few months ago, when I tried Barefeet in the Kitchen's Irresistible Mandarin Broccoli Salad. You know the difference? The broccoli is roasted!
Cooking the broccoli first. Actually roasting it. Makes all the difference. I went from avoiding the salad at every pot luck around, to wanting to make my own!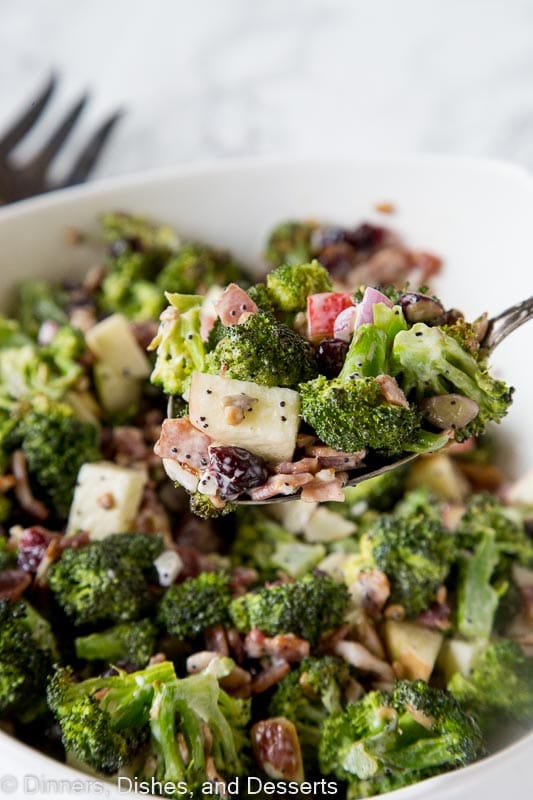 A couple weeks ago I hosted Breck Blog Retreat. I invited 9 of my best blogging friends to come to Colorado, head up to Breckenridge, and hang out for the weekend. We worked with GoBreck to stay at this amazing house! I love Breckenridge in the fall. I mean, yes they have an amazing ski resort and is great in the winter. But fall in the mountains is so underrated. The gorgeous leaves, the crisp air, it just can't be beat. And we woke up to snow one morning which was a special treat!
We stayed at The Overlook house for 3 nights. The first night we went into town and had dinner at The Canteen. Fun drinks and great food! The next night we ordered pizza to be delivered from Giampietro. And the last night GoBreck had Chef Christian from The Secret Ingredient come into the house to cook us dinner. He made is a Vietnamese inspired meal and it was amazing. Seriously still dreaming about the noodle bowls. Mediavine provided all of the rest of the food and drinks for the trip. And by rest of, I mean enough to feed 12 people for a week! I should really not be allowed to shop for groups. I way over estimate what is needed.
The rest of the meals we all cooked together. Lynne from 365 Days of Baking and More and I were in charge of lunch one day. We had 2 salads, Creamy Tomato-Basil Soup and Honey Sesame Chicken Salad Wraps planned. By the time lunch rolled around, we knew the wrap and soup was more than enough. So as soon as I got home I made the broccoli salad recipe I had planned on making up in the mountains.
Broccoli salad with bacon is always a good idea, right? This recipe is all decked out for fall with cranberries and apples too. Plus almonds and sunflower seeds all coated in a poppy seed dressing. It would make a great salad to serve at Thanksgiving this year.
And if you want to add something extra special, these Toasted Pecans would be delicious!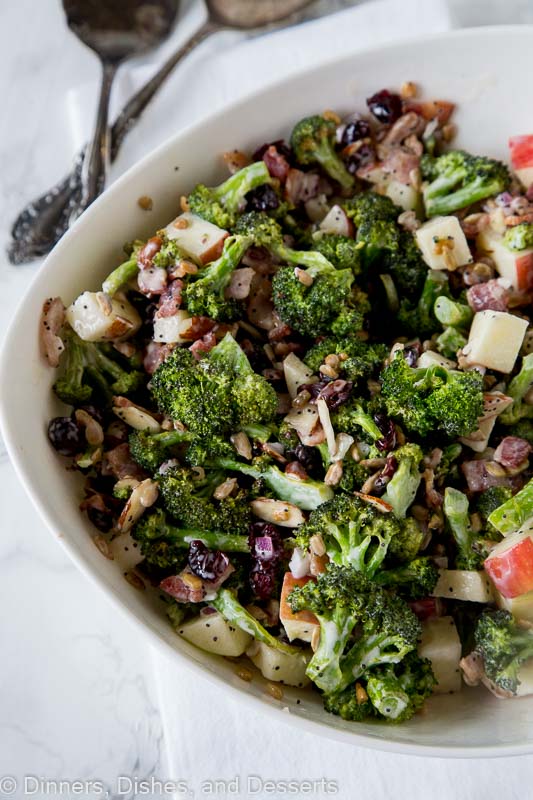 Even though the broccoli is roasted in this salad, it is still a cold broccoli salad. I actually like it after it has sat in the fridge for a couple hours for the dressing to come together and really flavor everything. I enjoyed the leftovers for lunch for a few days! I now have a new fall side dish I am bringing to pretty much every party I go to.
I know this broccoli salad recipe would have been a hit with all the ladies in Breckenridge, but I am kind of glad I got to make it at home. That way I got more to myself! So if you are looking for a fall salad to make this, try this Apple Broccoli Salad today!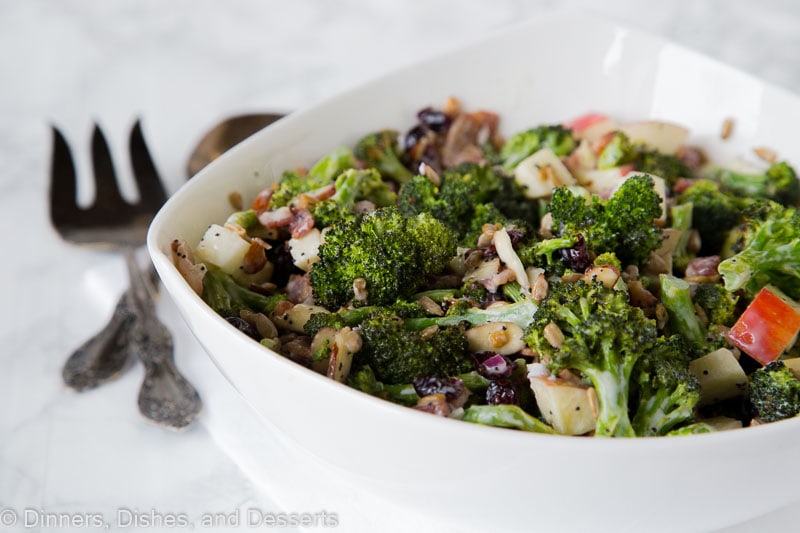 Yield: 6
Apple Broccoli Salad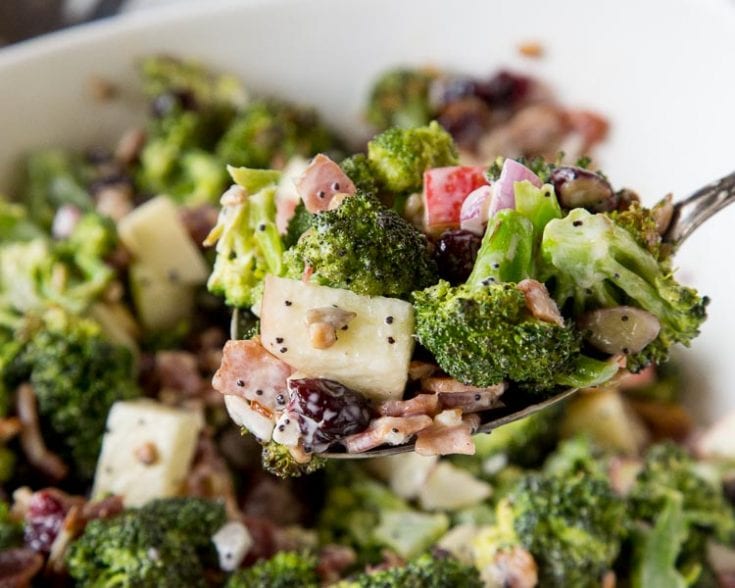 Broccoli Salad Recipe - roasted broccoli salad with bacon, apples, cranberries, almonds, sunflower seeds and a creamy poppy seed dressing!
Ingredients
6 cups fresh broccoli florets
2 Tbls olive oil
salt and pepper
8 slices bacon, cooked and crumbled
1 cup apple, cubed
1/2 cup dried cranberries
1/3 cup sliced almonds
1/4 cup red onion finely chopped
1/4 cup roasted sunflower seeds
Poppy Seed Dressing
2/3 cup mayo
1 Tbls apple cider vinegar
3 Tbls honey
1 lemon, juiced
1 Tbls poppy seeds
salt and pepper to taste
Instructions
Preheat oven to 425 degrees.
Toss broccoli florets with olive oil and season with salt and pepper. Arrange in a single layer on a baking sheet. Roasted for 15-18 minutes, until it starts to turn golden brown on the edges. Remove from oven and let the broccoli cool.
Meanwhile prepared the dressing. Mix all of the ingredients together until well blended. Store in fridge until ready to use.
In a large bowl or on the cooled baking sheet mix together broccoli, apple, bacon, onion, cranberries, almonds, and sun flower seeds.
Add dressing and mix until everything is well coated. Store in fridge until ready to serve.
Nutrition Information
Yield
6
Serving Size
1
Amount Per Serving
Calories

516
Saturated Fat

8g
Cholesterol

29mg
Sodium

384mg
Carbohydrates

28g
Fiber

5g
Sugar

17g
Protein

9g
**Thank you to GoBreck, Pinnacle Loding, and Mediavine for sponsoring Breck Blog Retreat. It would not have been the same without you!