Chicken Chilaquiles -A Mexican casserole with tortilla chips, and chicken baked in a spicy tomato sauce, and topped cheese.
My son finally went back to school yesterday. He loved having so much time off for the holidays, but I was ready for him to go back to school about a week ago. Last week it was too cold to go outside and play in the snow, so he has been inside and bored. Now that it is finally warming up again, he is back to school. Which hopefully means they will get to go outside for recess. Pretty sure after two weeks of the kids not being at school, they need outdoor recess or the teachers will go insane!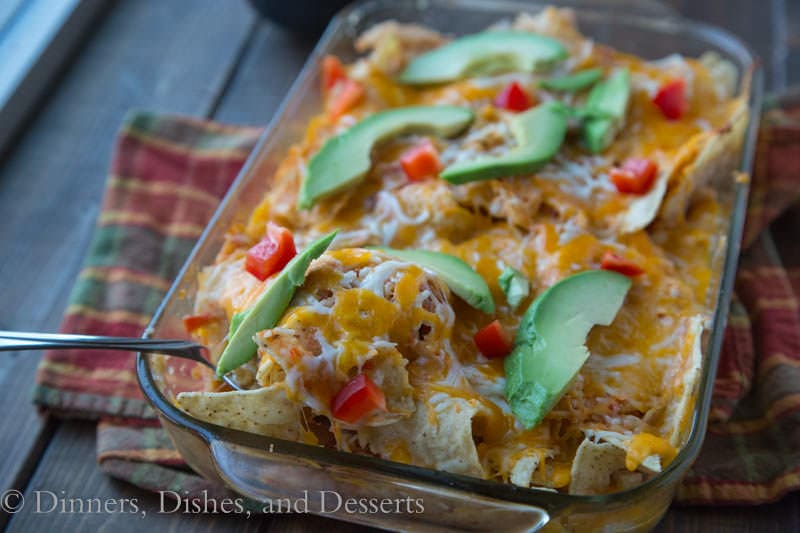 January is pretty much the month of dinner recipes around here. Everyone is giving up sweets for a few weeks, and focusing on healthier eating. So I have a ton of different dinner recipes (and a few Super Bowl recipes) planned for you over the next month. And trust me, not one of them tastes like diet food! Chilaquiles is a Mexican dish that is made with tortillas or old tortilla chips. It is usually served with eggs over the top. But I used chicken instead to turn this into a more substantial meal. I baked this version as a casserole, for a quick and easy weeknight dinner.
If you have the end of a bag of tortilla chips in your pantry, this is the perfect use. They soak up the sauce as it bakes, so they do not need to be super fresh. You can even use corn tortillas if you have those on hand. Really, anything goes! All you have to do is make the sauce, layer a few things in a baking dish, and bake until the cheese is melted. I topped ours with avocados and diced tomatoes. Feel free to add cilantro, sour cream, black olives, or anything else your family enjoys.
Yield: 6
Chicken Chilaquiles
Chicken Chilaquiles -A Mexican casserole with tortilla chips, and chicken baked in a spicy tomato sauce, and topped cheese.
Ingredients
3 large tomatoes, , chopped (or 1 (28 oz) can whole tomatoes)
1 jalapeno pepper, , seeded
1 cup chicken stock
1/2 tsp salt
2 cloves garlic
1 Tbls olive oil
1/4 cup red onion, , finely chopped
2 cups chicken, , cooked and shredded
4 cups tortilla chips
1 cup Cheddar Cheese, , shredded
Toppings (optional)
Avocado, , sliced
Tomatoes, , diced
Sour Cream
Black Olives
Cilantro
Instructions
Preheat oven to 350 degrees.
To a blender add tomatoes, jalapeno, chicken stock, salt and garlic. Puree until smooth.
In a large skillet, heat oil over medium-high heat. Add onion, and cook until soft. Add tomato mixture. Bring to a boil, reduce to a simmer and let cook for 10 minutes, stirring occasionally. Add chicken, stirring to coat
Spread out the tortilla chips in a casserole dish. Pour tomato sauce over the chips, making sure to cover them pretty evenly.
Top with cheese. Bake for 10 minutes, or until cheese is melted.
Serve topped with sliced avocado and other optional toppings.
Nutrition Information
Yield
6
Serving Size
5 -6
Amount Per Serving
Calories

395
Total Fat

25g
Saturated Fat

7g
Trans Fat

0g
Unsaturated Fat

16g
Cholesterol

63mg
Sodium

490mg
Carbohydrates

25g
Fiber

5g
Sugar

5g
Protein

20g