Today a group of bloggers thought it would be great to show appreciation to the person who supports us the most. Amanda from I Am Baker organized this fun little event, and came up with some questions for us to ask our husbands. I am also sharing a round up of a few of my husbands favorite recipes. So if you have a guy in your life you need to feed, you know these should go over well.
What is your significant other's favorite blog called? Uhhhhh……I have no idea. You like your own blog the best, right?
What is their favorite prop? Some board you always take a picture on.
What is the weirdest thing you have seen your spouse do for a blog post? I don't know. Maybe, stand on a chair during dinner to take a picture.
If you could have your own blog what would you call it? Aaaahhhhh, I don't know! Something about traveling.
What do you do for a living and what are your hobbies? Computer Engineer. Traveling, hiking, snowshoeing.
Who does the dishes? The dishwasher
My husband wasn't excited to be part of this, but I have to thank him for being a good sport. He is always a willing taste tester, and doesn't complain when I come home with new props. He is always supportive of me, and I can't thank him enough for what he does for me and our family. Now, on to a few of his favorite recipes over the last couple years.
Asian Peanut Noodles – I made this for a quick lunch last summer. This is actually on the menu this week with some shrimp.
Avocado Bruschetta – We are huge avocado fans in this house, and this was such a fresh and easy way to enjoy it.
Barbeque Pulled Pork Sandwiches – This has been something we have been making for years! It cooks in the crock pot, so it is great for busy days.
Party Mix – My husband grew up with the recipe. It is a staple in our house after Thanksgiving each year.
Cream Puffs – I remember making these with my husband in college. He isn't a fan of chocolate, so these are one of his favorites.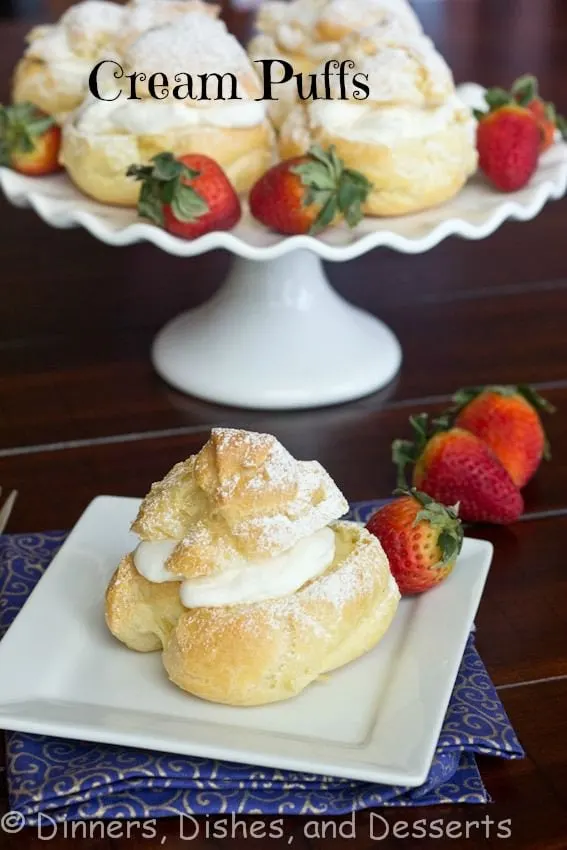 Crispy Herbed Shrimp – My husband has always been a huge seafood fan. I am slowly trying to get on board, but this is one that we both can agree on.
Chicken Enchilada Chili – Mexican food is a favorite at our house, and this chili has been a staple for years. We even had it this week.
Butterscotch M&M Bars – My husband love just about anything that involved butterscotch. And blondies are one of his favorites. These bars are so good, and I probably need to make them for him soon.
Baja Shrimp Tacos – My husband requested this recipe after seeing it on a menu at a restaurant. He loved it, and has been so proud that it was one of my post popular recipes until recently.
Curried Potatoes with Chickpeas – Side dishes are hard around here, my family isn't big on veggies. But these potatoes are a favorite, and the spicy yogurt sauce is so good!
Open Face Chicken Sandwich w/ Artichoke Pesto – My husband loves artichokes. I feel bad, because they aren't my favorite so I don't make enough stuff with them. But these sandwiches are so good, I could eat them every week.
Cheddar Bay Biscuits – Who doesn't love these biscuits? My husband is a carb lover, and these are a favorite.
Rosemary Focaccia – Like I said before, bread is a must around here. Focaccia dipped in olive oil is one side dish that my husband will always enjoy.
Strawberry Shortcake – This is another recipe that my husband grew up with. Every summer since we have been married this is made, and a staple with fresh picked strawberries.
Cinnamon Rolls – My husband isn't much of a sweet breakfast person, he would much prefer an omelet. But these cinnamon rolls come together in less than 60 minutes, and my husband loves them.
Strawberry Crumb Bars – I knew my husband liked these the first time I made them, but until the requested them again this summer and ate quite a few of them, I didn't realize how much he actually liked them.
Smokey Garlic Chicken Pasta – We eat a lot of pasta at our house, and this is so flavorful. Plus there is bacon involved, so what is not to love.
Thanks so much to my husband who spoils me, and supports me at every turn!
Be sure to check out all the other bloggers who are recognizing and making great things for their husbands today too!
Lauren from Keep It Sweet Desserts made M&M Kit Kat Cake
Rachel from Rachel Cooks made Whole Wheat Chocolate Chip Cookies
Shanna from Pineapple & Coconut made Best Ever Chicken Enchiladas
Meaghan from The Decorated Cookie made Homemade SpaghettiOs
Amy from Very Culinary shared a Fabulous Video!
Liz from The Lemon Bowl made Lebanese Meat Pies (Sfeehas)
Cassie from Bake Your Day made Something Fabulous
Erin from The Law Students Wife made Chicken Stir Fry with Thai Peanut Sauce
Heather from Sugar Dish Me made Bourbon Apple Shortcakes
Dorothy from Crazy For Crust made Pretzel Toffee Peanut Butter Cookies
Lauren from Climbing Grier Mountain shared At the Table with Mr. B
Tanya from Lemons for Lulu made Something Fabulous
Erin from Texanerin Baking made Healthier New York Times Chocolate Chip Cookies
Jen from Jens Favorite Cookies made Chocolate Pudding
Jamie from Thrifty Veggie Mama made Something Fabulous
Diane from Created By Diane made Rocky Road Cookie
Nikki from Seeded at the Table made Oatmeal Cream Pie Ice Cream Sandwiches
Meagan fron A Zesty Bite made Something Fabulous
Taylor from Greens & Chocolate made Something Fabulous
Amanda from i am baker made Classic Cheesecake with Double Crust
Kristy from Sweet Treats & More made Something Fabulous
Lauren from Healthy. Delicious. made Something Fabulous
Rachel from Set the Table made Mexican Chocolate Shake
Julie from Julie's Eats and Treats made Something Fabulous
Stefani from Cupcake Project made Graham Cracker Waffle Cones
Kimberly from The Daring Gourmet made French Almond Cake
Katerina from Diethood made Something Fabulous
Betsy from Java Cupcake made Something Fabulous