Peanut Butter Cup Dump Cake – Just 4 ingredients come together to make a rich, fudgy, chocolate-y cake studded with lots of peanut butter cups!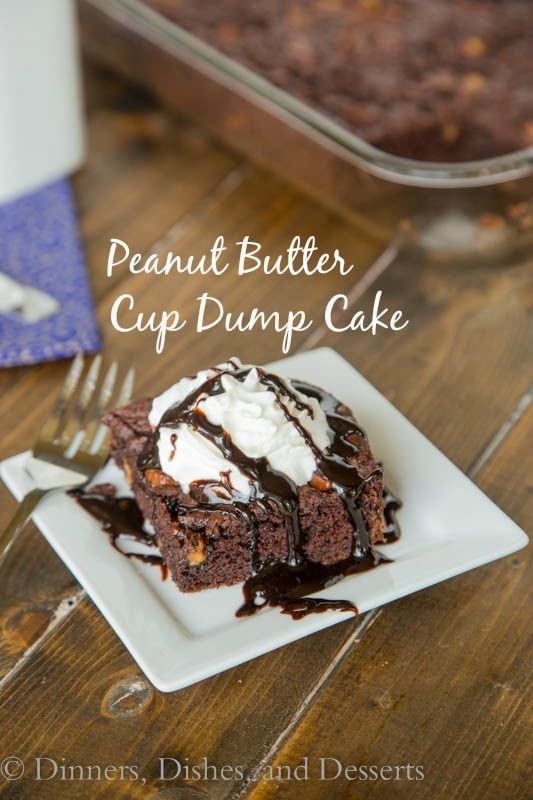 Last time I needed an oil change, I called to make an appointment.  So this time when I needed one, I called again.  They told me that they do it on a 1st come, 1st serve basis.  So I asked when was a slow time, and I would have the least wait.  They said 7:30 am when they first open or between 2-3pm.  So I went at 1:45, hoping I would haven't to wait too long.  90 minutes. They told me it would be 90 minutes.
I had to pick my son up from school, so that was not an option.  The next day, as soon as I dropped my son off at school I went straight there; arriving at 8:45 am.  I was told I was the next car.  Over 90 minutes later I was finally leaving.  Since when does it take so long to change the oil in a car?!?!?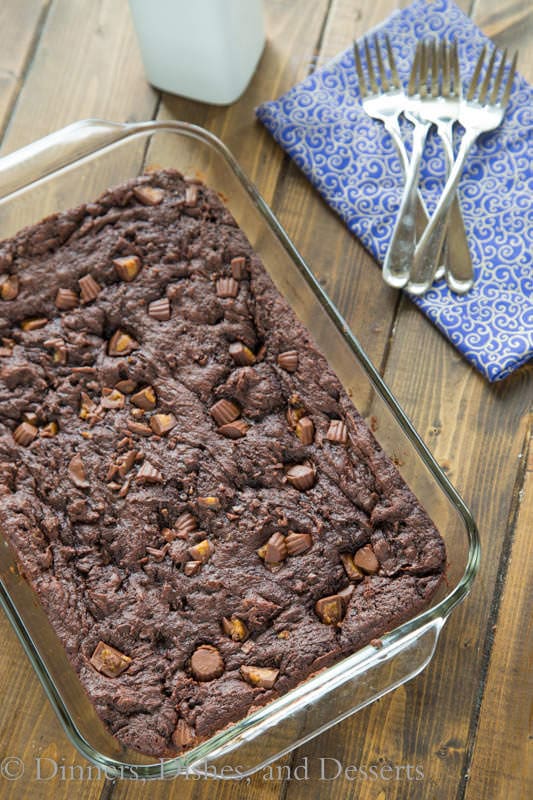 Since everything takes forever these days, sometimes you just need a quick and easy dessert.  Have you ever tried a dump cake?  The concept is super easy.  Just dump cake mix, pudding mix, and milk together.  Then you bake.  No mixer required. Super easy when you have no time to bake something.
Dump cake is perfect to then dress up how ever you want.  Add in chocolate chips, cherry pie filling, candy of your choice.  Top with whipped cream, ice cream, or even hot fudge sauce.  So easy to customize to whatever your family likes. Pumpkin Dump Cake is a great one to make in the fall.
I first made dump cake a few months ago when I had cooking club.  Everyone loved it.  Rich, chocolate-y, fudgy, and studded with mini peanut butter cups.  I served it with whipped cream and drizzled with hot fudge.  Straight out of the oven with a scoop of ice cream would have been even better!  Dump cake is sure to become a go to dessert in any busy house!
Here are some of my favorite Kitchen Items I used to make this recipe:
Pyrex Pan – A good 13×9 inch pan is essential when making dinners and desserts. This one holds up to the high temperature of the oven, and works great for no bake desserts that go in and out of the fridge often!
Mixing Bowls: I love having a variety of sizes of mixing bowls. From small to large, I find that having at least 3 bowls of different sizes has been an essential in my kitchen. I prefer Pyrex because of the durability.
Whisk – I love a heavy duty metal whisk for a lot of different uses. I want it to be able to hold up to a thick batter. And this one has lasted for years.
Peanut Butter Cup Dump Cake
Peanut Butter Cup Dump Cake - Just 4 ingredients come together to make a rich, fudgy, chocolate-y cake studded with lots of peanut butter cups!
Ingredients
1

box chocolate cake mix

1

box chocolate instant pudding mix

1 3/4

cups

milk

1

(8 oz) package mini Reese's PB Cups, chopped
Instructions
Preheat oven to 350 degrees. Spray a 13x9 inch baking dish with non-stick spray. Set aside

In a large bowl whisk together milk and pudding mix. Add in cake mix and stir until combined, will be very thick. Fold in peanut butter cups.

Bake for 25 minutes, or until tester comes out clean.
Need even more chocolate cake recipes?
Want even more dessert inspiration.  Browse through my Recipe Index for even more dessert ideas. Follow along on Pinterest and never miss any great recipes!