Pineapple Coconut Cupcakes – A moist and tender homemade cupcake that tastes like the tropics! Pineapple and coconut flavor the cupcakes and the frosting!
Do you have certain flavors or smells that remind you of certain things? I am sure you do. I think everyone does. Pineapple and coconut to me, smell and taste like vacation. And pretty much a tropical vacation. Preferably with a Classic Lime Margarita in hand.
Tropical drinks, sun screen, fresh fruit; that is what I think of when I hear pineapple coconut cupcakes. So even though the weather is warming up, I still want to fee like I am on a beach vacation!  Maybe a Margarita Cupcake would fit too.
Click HERE to get the full recipe.
I have been known to rely on a box mix for a cake before, like when I make my favorite Chocolate Cream Cake. I have no problem taking short cuts. But homemade cakes are just so much better! Plus you can flavor them however you want! Like adding pineapple. So these cupcakes are completely from scratch. But don't be scared, trust me they are easy!
To get the cupcakes extra moist, I used a can of crushed pineapple in the batter. It gives it tons of flavor, but keeps them from drying out as well. Plus coconut extract gives it that great flavor.
The frosting uses pineapple juice as part of the liquid. So you get the full flavor in every bite. Garnish with a wedge of pineapple,  and then everyone knows exactly what they are eating! I went a little light on the coconut extract in the frosting, because I did not want it to over power. But if you like more, then taste as you go and add more.
I made these for our neighborhood get together a couple weeks ago, and they disappeared in no time! I was shocked how many kids were all over the coconut. So make these pineapple coconut cupcakes today and feel like you are in the middle of a tropical vacation. And if you have leftover coconut, try these White Chocolate Coconut Truffles.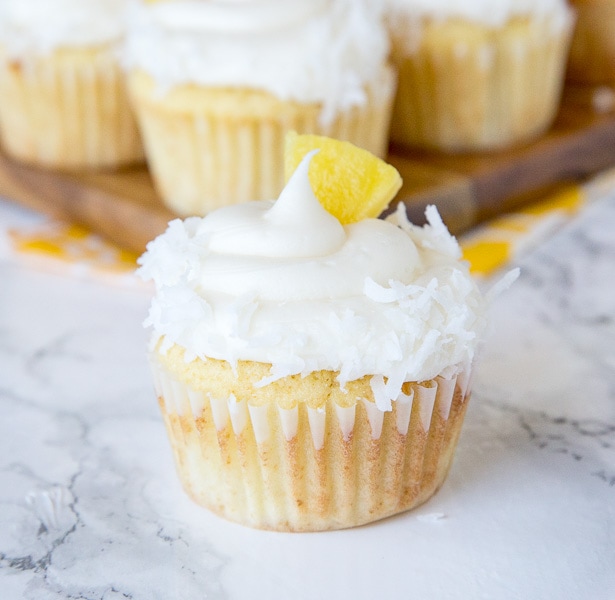 I am sharing this recipe over at Imperial Sugar today. Click on Pineapple Coconut Cupcakes to get the full recipe.
**This post is sponsored by Imperial Sugar. I was compensated for my time to create this recipe. All thoughts and opinions are 100% my own.