How To Cook Mushrooms – quick and easy sauteed mushrooms are great to top a steak, make a gravy, or just as a side dish.
I could eat mushrooms pretty much every day. I make these Easy Sauteed Mushrooms pretty much every time we have steak. It is the perfect thing to top a tender juicy steak. Or to just enjoy by themselves!
My smothered pork chops start out with sauteed mushrooms as the base of the sauce. Knowing how to cook mushrooms is such an easy and important skill to have! There are so many different recipes you can incorporate them into.
How to Cook Mushrooms:
Do mushrooms need to be washed? It is highly debatable if you run mushrooms under water to wash them or just brush with a damp cloth. I honestly can't tell the difference, so I have the water on a trickle and run them under that while brushing away any dirt.
Slice the mushrooms the same thickness. You want them to cook evenly, not have some getting super dark, while others are barely cooked.
Use a mix of olive oil and butter. The flavor is so much better when you use both.
Don't over mix. That sounds strange when talking about cooking something on the stove, and not mixing a cake. But seriously. Let the pan and the fat brown the mushrooms. Spread them in an even layer and let them sit for awhile. Avoid the urge to stir then often.
Season with salt and pepper at the end. Salt brings out the liquid in the mushrooms, and can slow down the browning process. So wait until they are browned before you season.
For The Best Mushrooms
The best mushrooms are seared. You want to use a large skillet so there is plenty of space for the mushrooms to spread out and touch the heat. Mushrooms are safe to eat raw, but the best mushrooms have a slight char which gives them tons of flavor.
Once you have this method down you are good to go! I like to season with just a little bit of garlic and Italian seasoning. They are full of flavor, but not over powering in recipes. You can also mix up the flavor and use your favorite seasonings if you want.
What Kind Of Mushrooms To Use
You really can use whatever type you like, and this method works great! As you can see in the pictures I used white button mushrooms, because they are readily available for everyone. But I also like to use baby bella mushrooms, or brown mushrooms for just a little more flavor and texture.
There are a ton of different mushrooms recipes out there, and most of them start with the basics of sauteing. So master this skill and you can have Skillet Beef Stroganoff any day of the week.
In case you couldn't tell, I love mushrooms. My family isn't a big fan, but that doesn't stop me. I will continue to make them and eat them as often as I can.
Still intimidated or what another method? Try Air Fryer Mushrooms for a quick and easy version that is almost completely hands-off.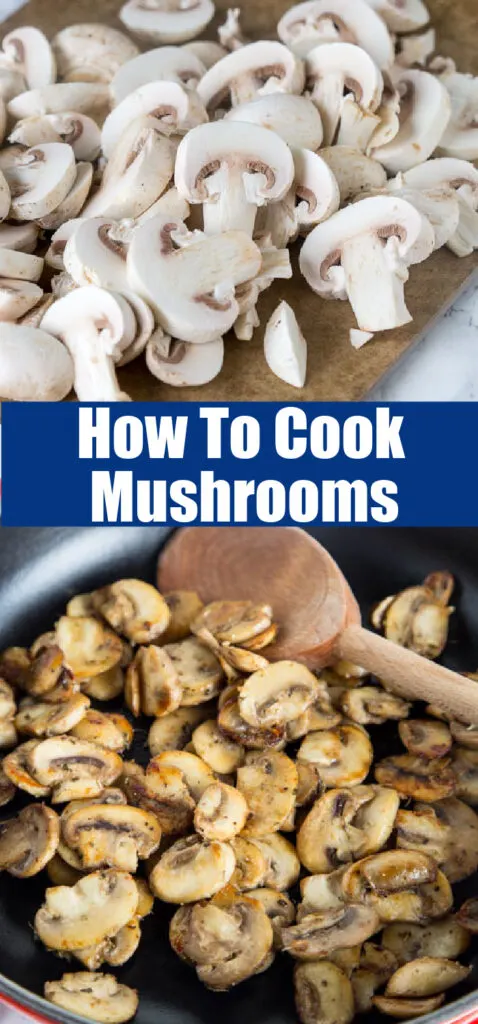 Some Mushrooms Recipes to Try
Yield: 2
How to Cook Mushrooms
How To Cook Mushrooms - quick and easy sauteed mushrooms are great to top a steak, make a gravy, or just as a side dish.
Ingredients
1 package (8 oz) mushrooms, thinly sliced
2 teaspoons butter
1 teaspoons olive oil
1 clove garlic, minced
1/2 teaspoon Italian seasoning
1/2 teaspoon salt
1/4 teaspoon black pepper
Instructions
Heat butter and olive oil in a large skillet over medium high heat.
Add mushrooms to the pan, spreading into a single layer. Let cook for 5 minutes before stirring.
Stir and cook for 4-5 more minutes until the mushrooms are tender and starting to turn golden brown.
Add garlic to the pan and cook for 2-3 minutes.
Season with Italian seasoning, salt and pepper. Serve immediately
Nutrition Information
Yield
2
Serving Size
1
Amount Per Serving
Calories

84
Saturated Fat

2g
Cholesterol

10mg
Sodium

623mg
Carbohydrates

4g
Fiber

1g
Sugar

2g
Protein

3g
I created a fun group on Facebook, and I would love for you to join us! It's a place where you can share YOUR favorite recipes, ask questions, and see what's new at Dinners, Dishes and Desserts (so that you never miss a new recipe)!
Be sure to follow me on Instagram and tag #dinnersdishes so I can see all the wonderful DINNERS, DISHES, AND DESSERTS recipes YOU make!
Be sure to follow me on my social media, so you never miss a post!
Facebook | Twitter | Pinterest | Instagram
Did you know there is a Dinners, Dishes, and Desserts SHOP? Lots of different E-Books for sale. Or you can buy me a coffee to say thanks!