Healthy Dinner Ideas – looking to mix up your dinner, but want to keep it healthy? Here are 20 of my favorite healthy dinner recipes for any night of the week.
Let's face it, healthy eating can sometimes to boring. You think it needs to be a piece of lean protein like chicken or fish with a salad and vegetables on the side. But that is not entirely true! You can add so much flavor and make it so you don't think you are eating health food.
Around the beginning of the year especially people are searching for healthy dinner ideas. So today I am sharing 20 of my favorites. There are some carbs, because unless there is a medical reason, I don't believe in restrictive diets. All things moderation!!
There are plenty of chicken recipes, and even a salad thrown in – but they are totally different than your baked or sauteed piece of chicken with a salad on the side. Trust me, you will not be bored!
Super easy, one pan chicken recipe. Tons of great flavors, healthy, and delicious!
Hearty and comforting soup that is not only good for you, but filling and comforting for cold nights.
Healthy moist chicken cutlet that is coated with a honey dijon sauce. Ready in minutes, and great for any night of the week.
A favorite Mexican dinner gets turned into a 20 minute warm and comforting chili! Great for any night of the week.
A healthy version of a Chinese take-out favorite! Ready in minutes and you don't have to feel any guilt about fried rice again!
Healthier fried rice recipe with cashews, broccoli, mushrooms and a creamy peanut butter dressing. So good, you won't even know you are eating something good for you!
Chicken marinaded and grilled, then topped it tomato and garlic bruschetta. Healthy, quick, easy, and delicious!
Oven Baked Chicken and Potatoes
A one pan chicken dinner with citrus, olive oil, and basil marinated chicken, green beans and roasted potatoes.
Thick pieces of turkey seared and topped with pesto, tomatoes, and melty cheese. Ready in 15 minutes, and great any night of the week!
Smooth and creamy Butternut squash soup, with a slight kick. Light and actually good for you!
Get all the crispiness of fried shrimp in a quick and easy healthy way. Super crunchy, ready in minutes, and delicious!
Short Cut Risotto with Brussels Sprouts
Get creamy risotto in minutes using a simple short cut. Plus it is actually pretty good for you!
Mini turkey meatloaves filled with oats, and quinoa. Topped with marinara sauce and cheese!
Tilapia with Tomatoes and Orzo
Sweet tomatoes make a fresh sauce over mild white fish
Make super crispy shrimp that is baked, not fried, so it is actually good for you!
Creamy chipotle dressing tossed with chopped lettuce and other Mexican ingredients.
Grilled fish fillets in warm tortillas with a roasted pablano cream sauce
Crispy Fish with Lemon Dill Sauce
Crispy oven baked cod fillets with a lemon dill sauce for dipping.
This healthy mac and cheese is quick and easy. Stove top mac n' cheese made with Greek yogurt.
Make lasagna any night of the week with this easy skillet lasagna recipe!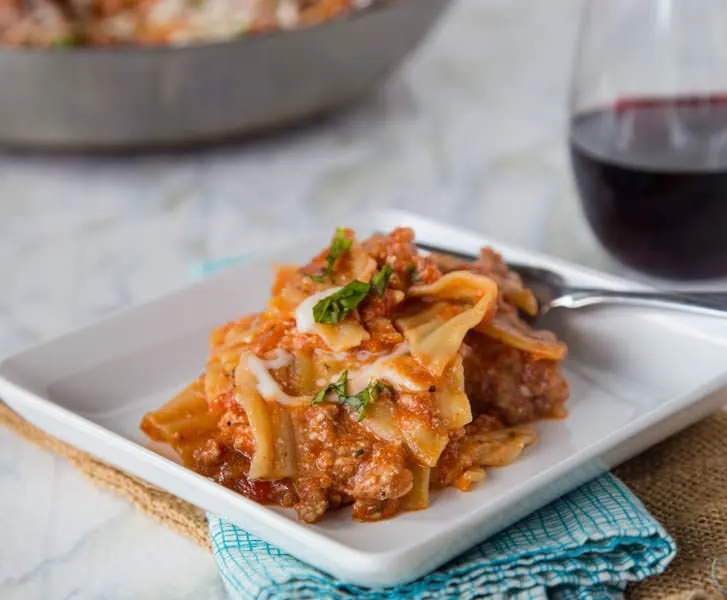 Pin up the image below so you can have all of these Healthy Dinner Ideas in one spot!